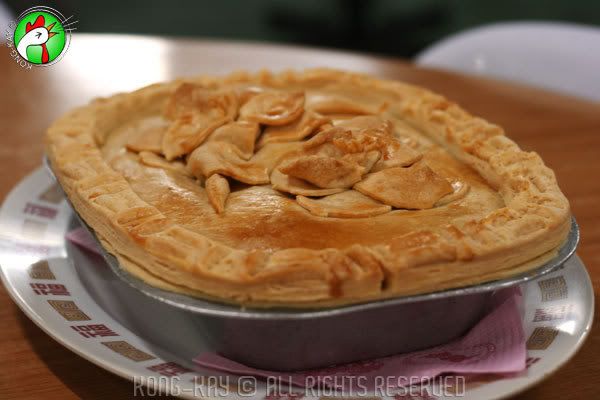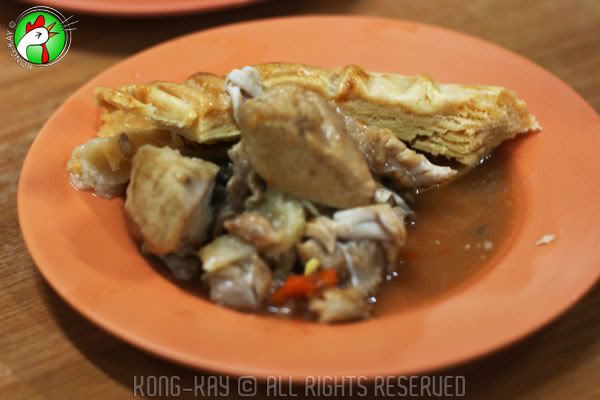 Here's something you don't expect from a Chinese restaurant... an English pie fit for a king counting his money in the counting house. Instead of black bird in the pie, there is chicken. The product is the Hainanese heritage of this restaurant - a by-product of the British colonial times, where the Hainanese worked in the

Ang-Mohs'

households as cooks. If I'm not mistaken there are pork chop, fish & chips in its menu. However, this pie is not listed. One has to order in advance for this. Each pie costs RM50.


The pie is sort of a novelty dish - a curiosity for me. On looks, it was deceptively beautiful. The crust was tough and lacking the buttery taste, and not flaky as those in minced pie. The filling consisted of chicken breast chunks, capsicum, hard boiled egg and mushroom. The breast meat was a bit dry, and the whole enchilada needed getting accustomed to. Soaking the crust in the meager sauce did alleviate it chew-ability a bit.
We had the pie as take-away at Sri Meranti (Pie tray had to be returned). Below are the other dishes we had: Steamed Red Snapper, Rou Spare-Ribs, Mixed Vegetables and Fried Crabs.