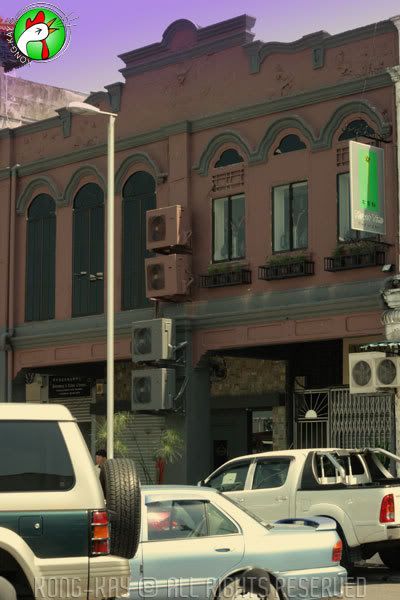 This is a new eatery (relocated) at the old part of town. It is the only shoplot on the block that has retained its original facade (the other one is in a sorry state under renovation); unlike the one next door and the first one on the far end - they are fugly monstrosities; the council should throw the book at them for destroying cultural heritage. Or rather the council should throw the book at themselves for lackluster enforcement or none at all.

This establishment is quite a setup for a east-west restaurant. It has more of a rojak of an eastern fare than anything else to suit the peculiar palate of the eating public of this town. I noticed that most of the customers were having local fares like fried rice and other dishes that go with rice, and noodle dishes.

Its Western menu didn't have any beef item when I was there. Reason: The quality of the beef is not good enough!!!??? So was the sorry state of its lamb chop (above) and the miserable tiny piece of fish (below), which is about half the slice of a normal Dory (about 170 gm.) you get from the cold storage, which sells it at RM9 per kg. Making less looks more; when you have the quantity but the thin slices doesn't cut it. It's like a case of the need of many outweighs the need of the few. Sacrifices quality and quantity for affordability.

Another thing, trying to put a group of 5 in a 4-seater, with the extra person's back jutting out at the main entrance, when the door opens in, defied all Vulcan's logic. If it's a hip place you're looking for rather than the food, this is the place for you.