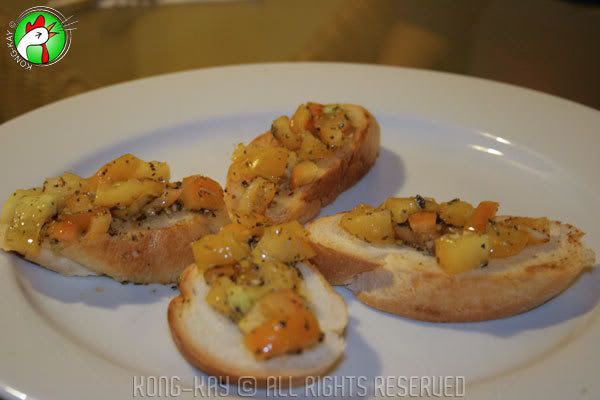 For a place that sounds like a German battle tank, this second story restaurant has a more rustic feel with its cane furniture and fake exposed beams. Deco is not what we were there for...

We were here at one of its busiest times - I think it was a Mother's Day. At times like these, most places would have offered a set menu (which is easier to manage) at exorbitant prices. However, these brave souls soldiered on with items from its normal menu (
The costliest item on the menu was RM30.)
without missing a beat.; all 5 of us had different items and there wasn't any hiccups in the delivery of the food. Furthermore, the first soft drinks were on the house.

The starter, Bruschetta al Pomodoro, was almost a non-starter for its half-ripe tomatoes; but it herbal olive oil mix makes on forget of its shortcoming. From then on, it was smooth sailing. Generous potions that didn't make you feel like being short-changed. Its use of okra and baby corn for the veg. is a change from the norm.
Hey, didn't I hear the beef in town is not up to par from Café
Café? Well, what do you know, the Uruguayan beef is as succulent as any there is. The lamb chunks didn't disappoint either - all the fats and other nuisances had been taken care of, unlike Farley Pinnacle's. I would have much prefer if they had been a little bit easy on the herbs.
I was back for its set lunch a few months later; it consisted of a choice of salad or soup, one main course (pasta or chicken with rice) and one ice lemon tea for the price of RM9.90. Well, Sibu being what it is, most people drive home for lunch, and we were the only table in the restaurant for the whole duration.
I don't know whether this restaurant will pass the
EMC
acid test; the owner/chef is an
Ang-Moh
Swiss (Panzer, hint! hint!). Hmmm, makes one wonder if his Italian cooking is up to stuff... I guess we need a Foochow opinion on that.