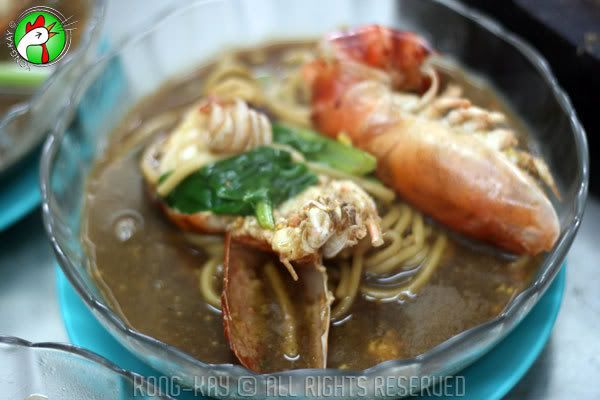 This was the Sunday's haul for the Sibu Benevolent Society. After which breakfast was at Champion's place, which normally opens at 11 a.m. With the exception for this Sunday, I had earlier suggested that he cooked Shrimp Noodle for us instead of eating at the usual place. Next time, the pied piper had better zipped up 'cos I bore the burnt of the tab. Luckily Champion charged at cost, which was a third of what

Ming

Kong

(famous eatery for its big shrimp noodle in Sibu) charges, or I'd have to swim back to Kuching.
Below is the Foochow Fried-Cooked Noodle with the Big-Headed Shrimp (

Tua-Thau Hăy

). There's no secret to it on how it's cooked. Thus all the photos are self-explanatory. You

kay-iam

and

kay-bee-cheng

(add salt & msg) on your own (and Chinese red wine [hic!*] if you please!). I don't have to

kay-kong

anymore or I'll be just another

low-so.