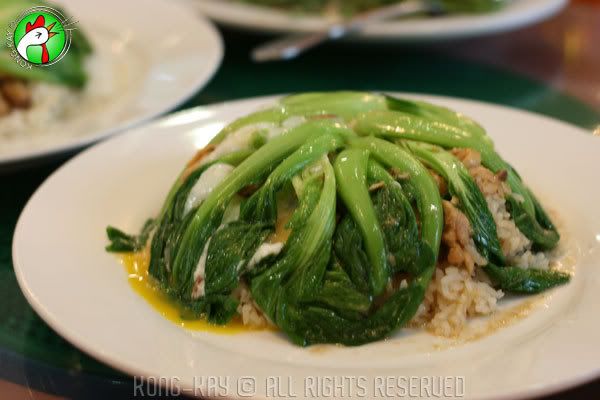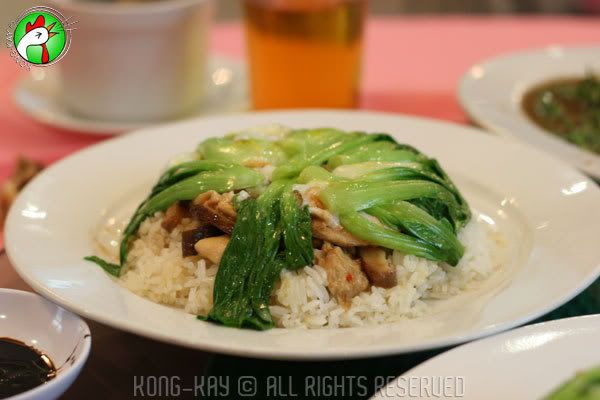 Not wanting to sound offensive, the local call this rice dish (pronounce as

Come-Come

as in COVER in Hokkien)

P'ng

(rice). In the menu it is described as Bowl-Covered Rice.

Initially I just wanted a Hainanese Chicken Rice, but this self-described "Life of a beggar, Mouth of an emperor" (

Kee-Chiak Mia, Ong-Teh Chui

) person convinced me otherwise to this never-tried-before dish. I freed myself from the responsibility of ordering the food for the 4 of us, as I didn't know what to expect from it all. Altogether we had 2 plates of

Kam-Kam P'ng

, a plate of chopped Hainanese chicken plus 1 bowl of chicken rice, 4 watercress soup and 1 fried

Midin

fern. It was food overkill, I tell you.

So what is

Kam-Kam P'ng

? It's a upside-down Hainanese chicken rice with shredded chicken, Xiao Pai Chai and egg steamed in a bowl. Each bowl is adequate for 2 persons, and costs RM10 each. If you've no qualm about Hainanese chicken rice, you'll love this.

How did I feel about the

Kam-Kam P'ng

? I feel a lot

Kong-Kam

(foolish) about the whole episode after having to foot the bill of RM70 for the lunch, whereas a RM4 per person chicken rice will do the job. Now you know how that person got the moniker "
Kee-Chiak Mia, Ong-Teh Chui
".

---