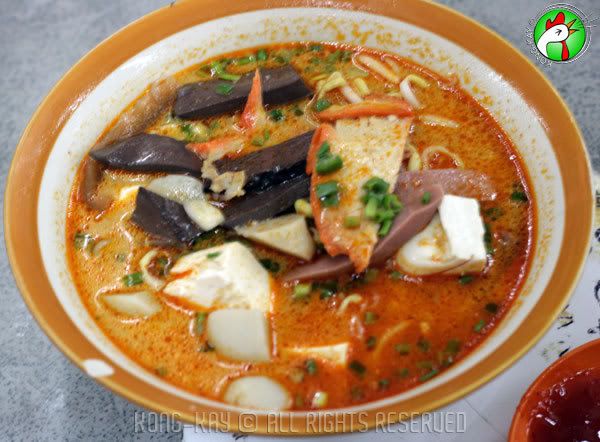 The morning we left Pelagus Resort, the chef followed us in one of the boats. Wonder what the Italians were having for the day without the chef proper? They relish

nasi goreng

so much, I think that was probably what they would be having.

The Laksa left was what the Penang friends ordered the day before. Unlike the one in Kuching, it has all sort of stuff thrown in: pig's blood, sausage, char-sui, alkaline cuttlefish, fishballs and tofu. I guess it was good;

Semua hentam-sai

!


The main market displayed a variety of interesting local produce unique to this part of the region from vegetables to wildlife. That was what our lunch was going to be...

We had made prior arrangement for our lunch the day before through its sister-coffee shop - also called Chong Seng.

The Terong Fish Soup with a hint of belacan is akin to the
Sinigang
; it's the round orangy eggplant that gives the soup its sour taste.
The

Percha

is a vegetable that smells and tastes like

Bunga Kantan

with a slight minty flavor.
The local venison, without the tenderiser, is divine; just fried with garlic, ginger, onion, chilli and green onion.
This is how wild boar is meant to be eaten... fried with just garlic and salt, au naturel - not with any herbs like most restaurants would do. There's no heavy flavor one comes to associate with wild boar; just lean and smoky.


This is a local fresh water fish; it has a lot of fine tiny bones. The flesh is delicate and soft. It's steamed without any soy sauce added, just salt to bring out it natural flavor.

The fish goes for RM80 per kilo in the market, and it's not the most expensive fish from this region.



This last dish is a local vegetable; it looks like spinach but a lot coarser and it's bitter.