Some people are enamoured by a "foreign prefix" in front of a noun eg. Singapore Chicken Rice, Hong Kong Tailor or London Haircut; and then there are some people who are simply besotted with anything "foreign or imported" like Thai girl, Filipinuts or Ipoh-Poh. I have a friend who belongs to the latter category, and who tends to stretch
believability
to the X-factor; let's just say, the sound of the 8 o'clock cannon had gone silent at Fort
Margherita,
and you know where it went. So when superlatives such as "

Swee

(beautiful/sweet),

See-Chài

(Very) and

Siong Tong

(Supreme)" are thrown in the works to describe this Singaporean lady's fishballs, this, I've got to try, but with a bit of apprehension!!!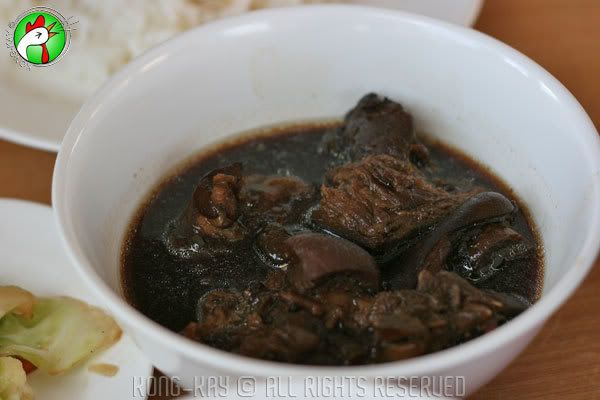 Braised Soy Sauce Pig's Trotters


So here we were, at this coffee shop, a few blocks from Catholic High School, for lunch. It's just an ordinary coffee shop, with precooked food on chaffing dishes, and the so-called famous fishballs are cooked to order at the noodle stall at the front. Bitten once the previous day, so I pretended to be the perfect guest.


True to form, the fishballs were indeed own-made by the lady (o.k., probably with the help of the Indonesian helpers). They are nothing to be excited with, or write home 'bout! The rest of the home-cooked style food are pedestrian at best.
When the tab was asked for, the lady came and whipped out a huge calculator and went "Tic! Tak! ic! Tak!" The whole lunch came to RM29, inclusive of 3 drinks, which was expensive by Sibu's standard. The
enamoured one footed the bill, and didn't feel a bit pinched by the whole experience!
---