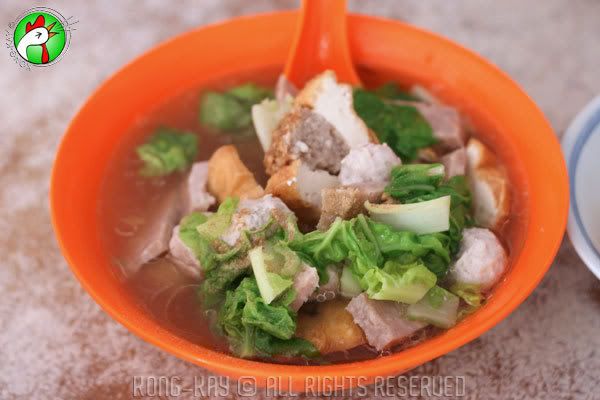 I've done this place before.. consider this a redux with sharper photos and a few in-betweens. As usual we order the

Kolo Mee Páng-A'ng

(Char-Sui Oil) and a bowl of meatballs and meat cake slices soup to be shared. However, this time we have the fried stuffed

Tau Kwna

added.

This is an all meat affair. There is not a drop of fishy stuff in the

Bak Eńee

or

Tau Kwna

in sight. The

Ah Poh

below is the one who always prepares the chilli padi (bird'seye chilli) with a squeeze of limequart, then a drizzle of soy sauce.








---

Sounding like a broken record, to reach this place, take a right turn after the Batu Kawa Bridge (from Kuching direction), then another right at the roundabout, the 2nd. shop on the last block of shop lot on the right.




---

Well, this is it.... crunch time! It's been a great 2 weeks; no matter what, it's great what traffic the Star has provided for this blog. Thanks to all those who have voted and those who popped in.
Been to Pelagus Resort over the weekend with Dr. S and Co. Got wild stuff to blog in the next few installments.