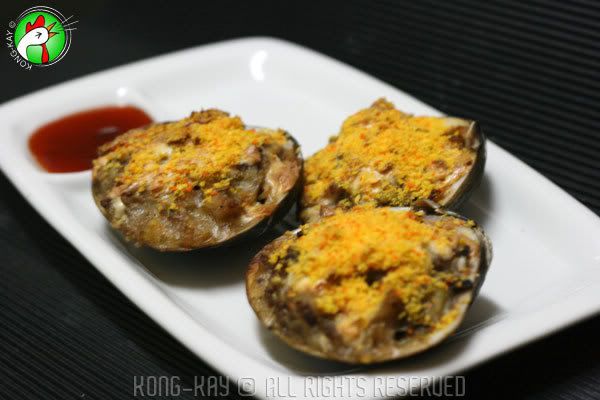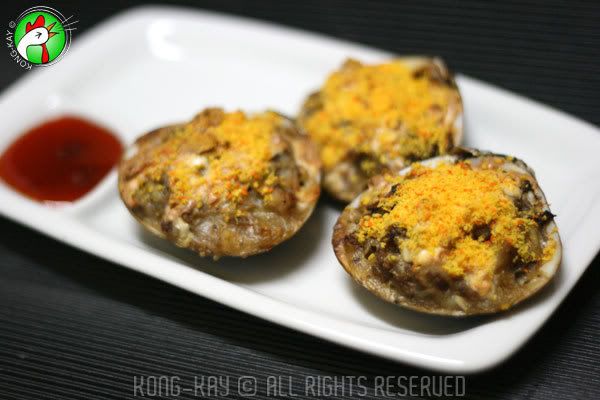 Got these clams at RM2 per kilogram.
I've used 1 kg. for soup. The remainder 3 kg., which has been left in the sink for the past 1 week (surprisingly they all are still alive), I've decided to bake them. This is a variation of
Clams Au Gratin
. Instead of soaked bread, I use diced potatoes.

I was supposed to use Mozzarella cheese, but accidently put it in the freezer with this morning's shopping. So have to resort to the Cheddar in the fridge.

Since all the ingredients are pretty much cooked, the baking is for the mixed stuffing to gel together and for the cheese to be melted.



---
3 Kg. Clams (Scrubbed Clean)

---
2 Tbsp. of Chinese White & Red Wine

---
3 Diced Peeled Potatoes (440 gm.)
---
2 Cloves Minced Garlic
---
2 Slices of Cheddar Cheese (Diced)
---
Breadcrumb

---
2 Tbsp. A1/HP Sauce
---
2Tsp. Paprika
---
1 Tbsp. Cornflour
---
METHOD

---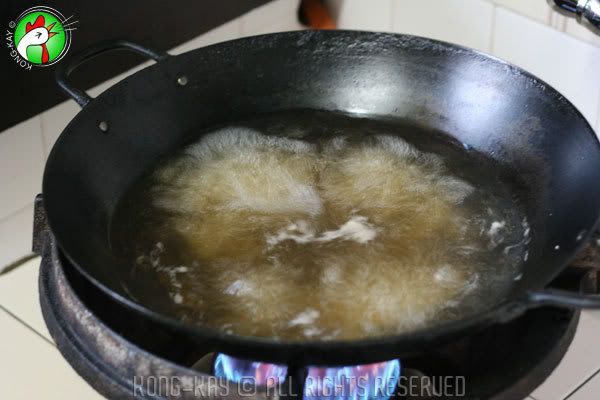 Boil 2 liters of water with the red and white wine with 2 tbsp. of salt in a wok or pot.

In the meantime, boil the diced potatoes in boiling water with a couple tsp. of salt for about 15 minutes. Drain and rinse in cold water. Let it cool.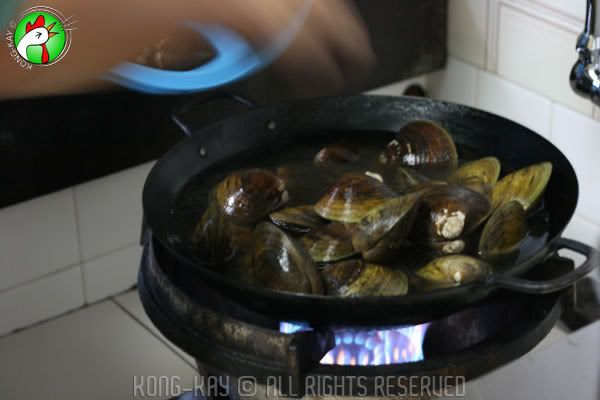 Put in the cleaned clams into the boiling li
Remove the clams
from the liquid
once they are opened. Discard the unopened ones.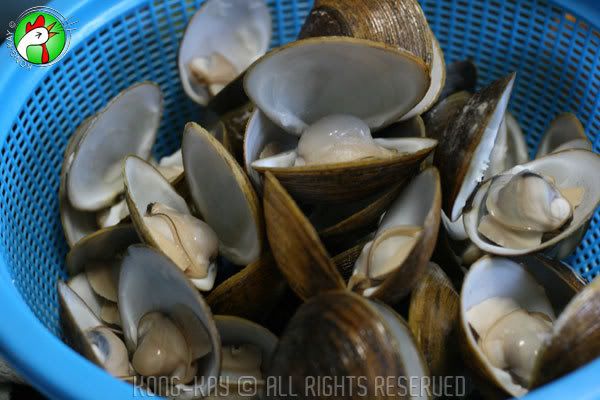 Rinse the cooked clams under cold water.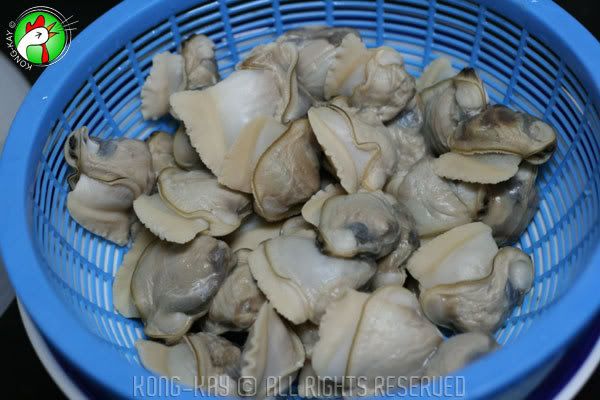 Remove the meat from its shell and rinse them again to remove any impurities. Diced them.

Choose the bigger size shells and scrub inside clean. These are to be used for the stuffing.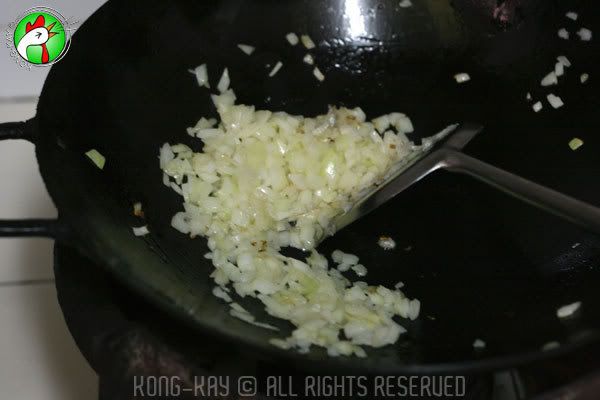 Fry the garlic and onions until soft. Set aside and let it cool.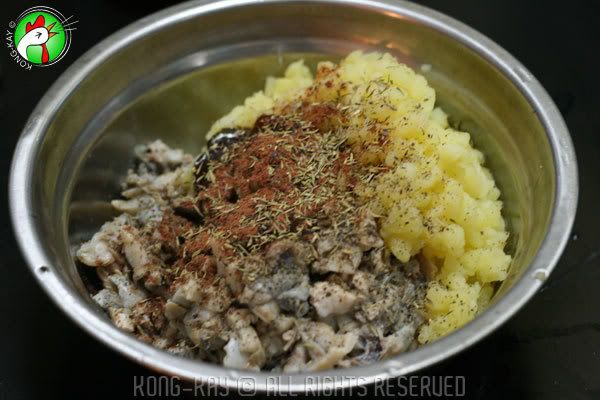 Transfer the diced meat into a bowl. Combine with fired onions and garlic, and cooked potatoes. Add in the HP/A1 sauce paprika, thyme, 2 tsp. of salt, sugar, and 1 tbsp. of cornflour. Use the hand to massage the stuffing into a sticky mass.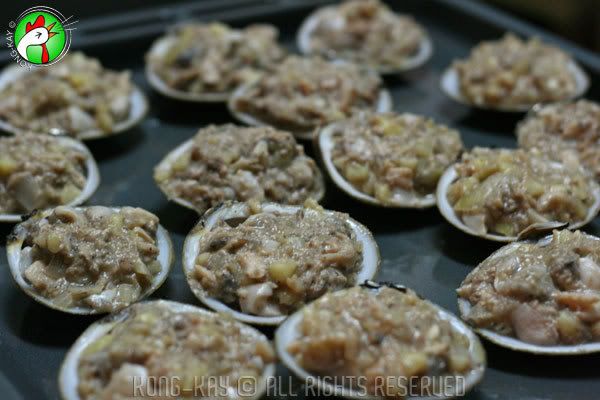 Scoop a lump of the mixture, and pat them down into each shell, until all the stuffing is finished. Put all the stuffed shells onto a baking tray.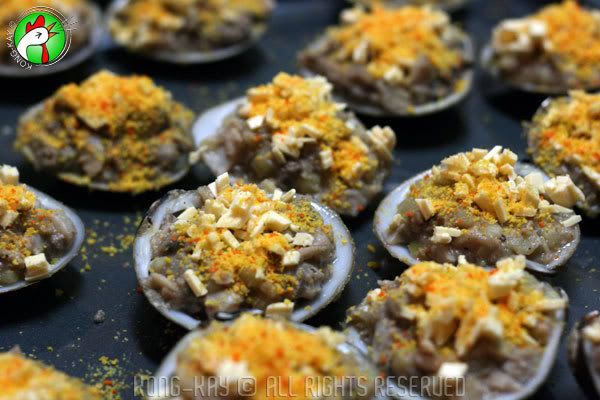 Sprinkle about a tsp. of chopped/grated cheese onto each stuffing top. Then a tsp. of breadcrumbs on each of them.
Preheat the oven at 175°C, with both the top and bottom elements on. Bake for 15 minutes.

Then set it to top Broil and maximum temperature to slightly brown the top surface of the stuffing. This should take about a minute or so.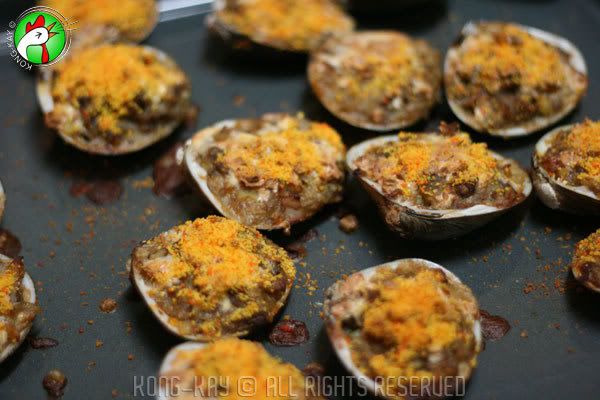 All done, and ready to serve!
---