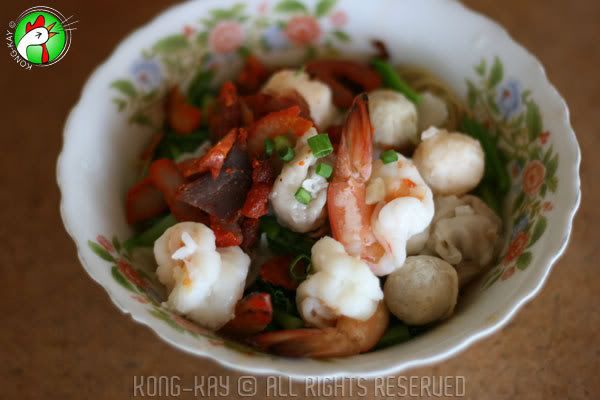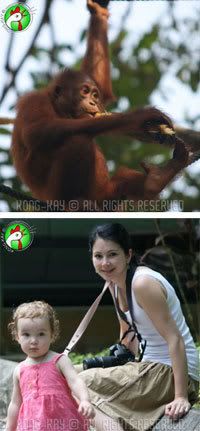 Went visiting our distant relatives at the

Semenggoh Wildlife Centre

again. As usual we stopped by Swee Sen Café for a bite and some refreshments. As we had a heavy breakfast before embarking on this mission, we just settled for 2 bowls of

Kolo Mee

.

For those who haven't read the earlier post on this place, this first corner coffee shop at the 10th. Mile Bazaar, now called Kota Padawan, is famous for its big-size fresh shrimps and home-made fish balls/ shrimp balls Kolo Mee. (See above) Beneath all those

Char-Sui

, shrimps, fishballs,
shrimp balls
and wonton is a bundle of noodle. It used to be RM6 for a bowl like this, but I didn't get to pay the tab this time (it was taken care of by Tim while I was out taking shots of the exterior. He said it was cheap, by his standard).

I was told by Khim Chui (middle pic. below) that the shop has been in existence since 1962. I further

kài-pó

and ask if he knew of any Wongs, who lived down the road ages ago. I drew a blank... you're not that notorious in your old neighborhood, eddie!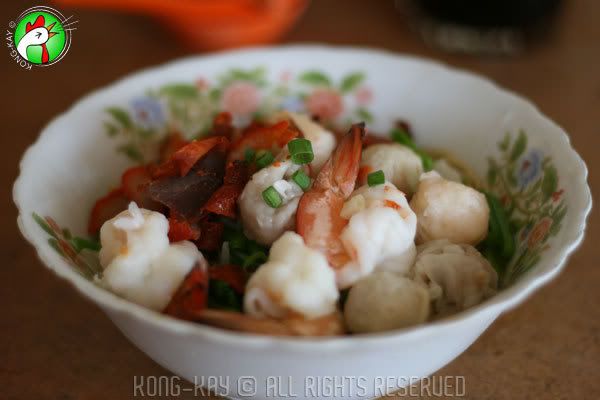 ---