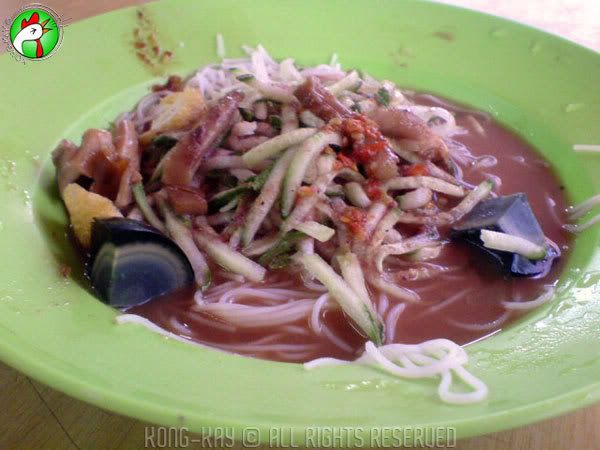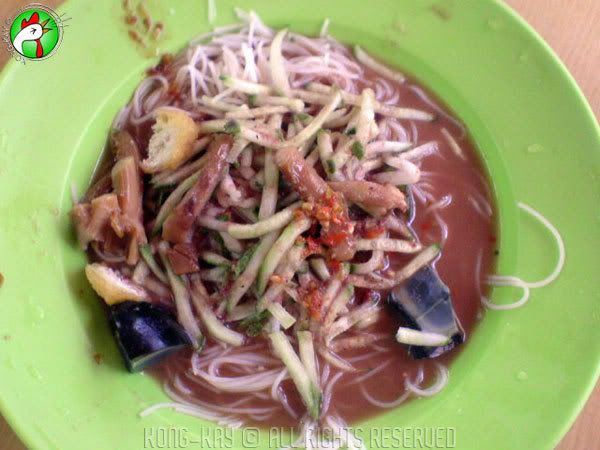 I'm not a big fan of

Belacan Beehoon

; and the number of times I've consumed it can be counted by the fingers of one hand. Most of the time, I just swipe a bite or two from somebody else's plate. So out of the blue, I ordered one that afternoon from this

Ah Pek

at a stall outside the pavement, while having a stroll along its shopping avenue.

What you see up there are the typical ingredients you normally find in a

Belacan Beehoon

: Alkaline Processed Cuttlefish,

Tau Pok

, Julienned cucumber and century egg, topped with broth of

Belacan

. This one is actually scrumptious! So concurred the person beside me (a Kuching thoroughbred); that's the way they make it at home: Richly flavored broth, pungent to the bone!!!

Since then I've gone back several times, but sad to say, our paths do not cross.