This restaurant, operated a Filipina who's married to a local, has been around for quite sometime. All the staff are Filipinos, so all pinoy will feel at home at this place; and there's no second guessing whether the food is authentic or not, but whether it's good or not is a matter of opinion. One thing for sure, it's a favorite watering hole; and if things get out of hand, you can always check yourself in at the police lockup a few shops down.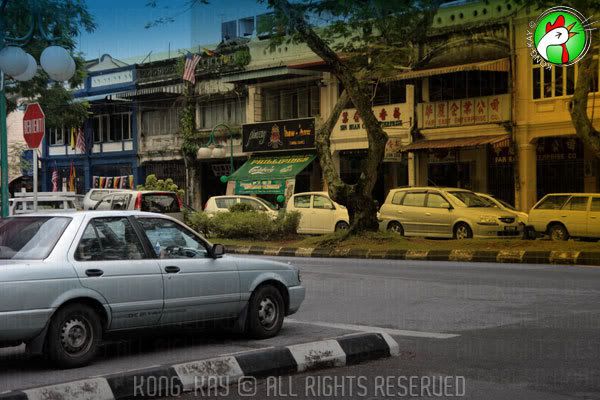 The best part of all the dishes for the evening was the stuffed Milk Fish (above). All the meat was scraped out, deboned, and then the remixed minced fish meat get stuffed back into the fish's skin. Great stuff. The side order of garlic rice was just dandy. The

Sinagang

soup is the same as Assam soup - clear broth and sour, but not the heat of

Tom Yum

. Next up was the winged beans fried with shrimp paste. Then it was the Filipino version of our

Tau-Eu Kay (Soy Sauce Chicken).

If you think

Kare-Kare

is curry, you'd be wrong. It's a bland peanut sauce spare ribs dish, with an anchovies type of dip that lends it the taste. The lady of the house said she wouldn't recommend it to the locals, as it's something getting used to.
The stuffed calamari looked great, however, it preparation is something less desirable to some - it insides were sort of left in tact saved for its spine, thus making it slimy. Lastly the Pata was a disappointment - more like a failed attempt at making

Sui Yuk

(Crispy Pork Belly); looked crispy on the outside but a tough babe to crack - no crackle here.