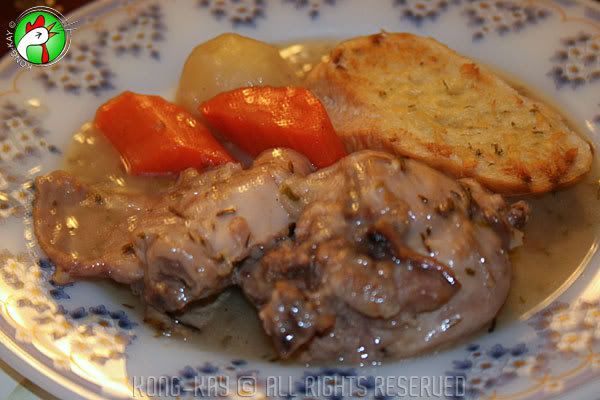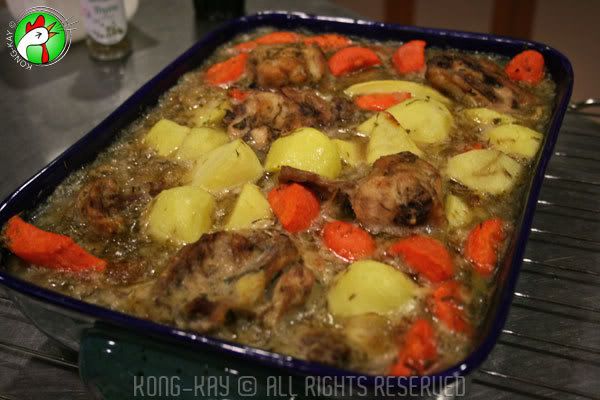 I'm game for anything as long as it's not smelly Tofu. So when I heard there's rabbit to be had, I requested for a couple. After all, it's only RM18 per kg., I was told. My 2.2 kg. rabbit turned out to be 1.2 kg. after being slaughtered and gutted, and I ended up paying RM40 for it. At that price, you won't be seeing me cooking another rabbit anytime soon.

I wasn't in my element; not my kitchen, therefore, had to make do with whatever was at my disposal. Thus, the change of pots/casserole dish midway through.




---
1.2 Kg. Rabbit (Chopped to manageable size)

---
---
---
2 Tbsp. Chicken Stock + 2 Cups Water
---
2 Large Carrots (Chunks)
Heat up a pan, and put in 6 tbsp. of cooking oil. When the oil is hot, throw in the onions and fry for 5 minutes.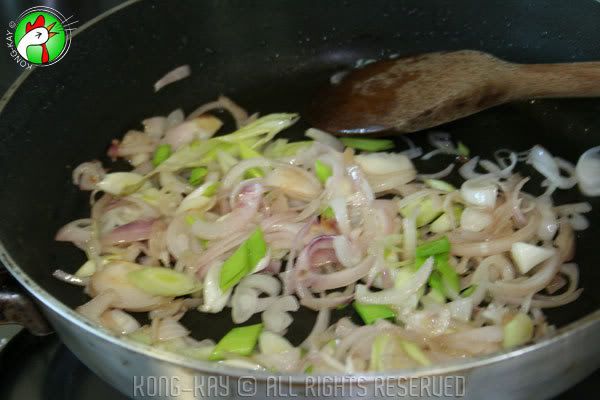 Mix in the leek and fry until soft. Scoop out onto a casserole dish, spread throughout the dish.
Sprinkle the thyme and salt evenly over the chopped meat on all sides.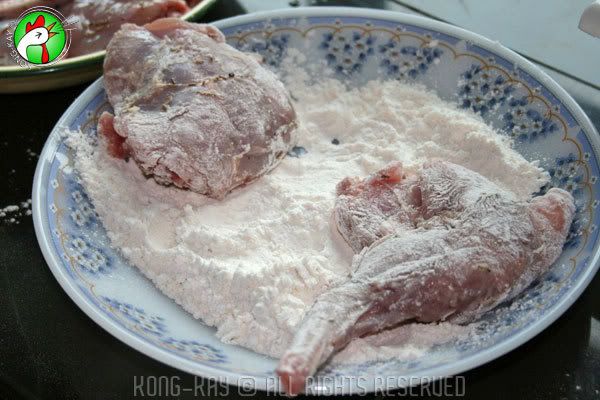 Dredge the meat over flour (about a cup).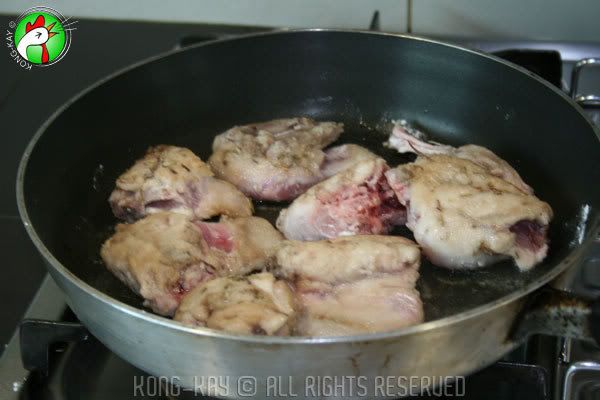 Using the same pan (onion & leek), fry the flour dredged meat. Brown all sides, and transfer to the casserole dish, on top of the leek and onion.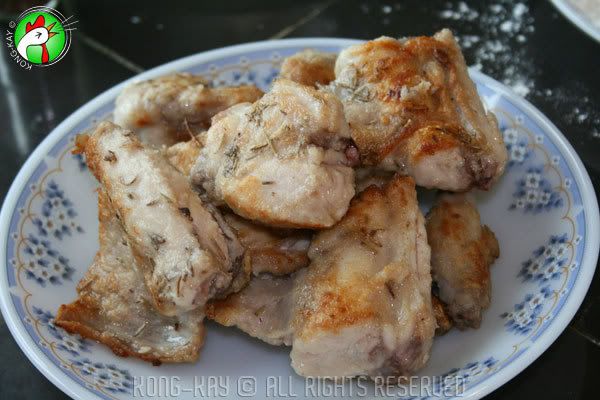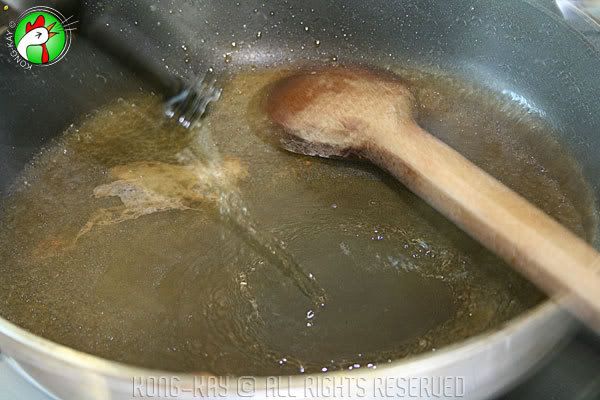 Deglazed the pan with white wine.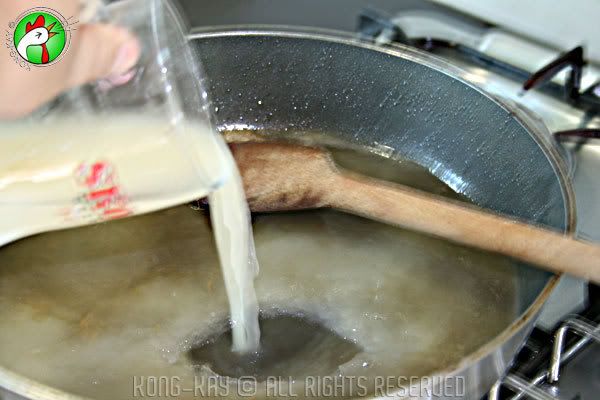 Pour the chicken stock into the pan and bring to a boil.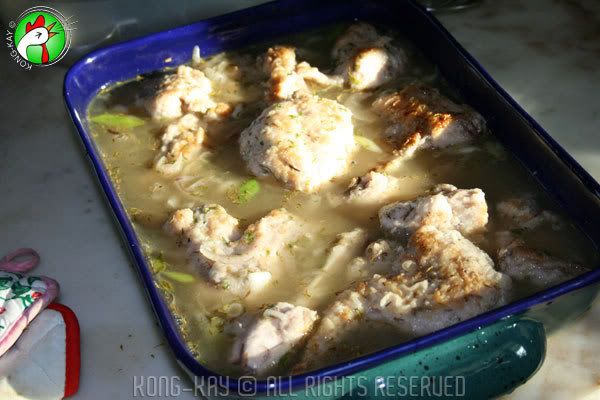 Pour the cooked stock into the casserole dish. Add water if necessary, so that the liquid tops the meat. Transfer the dish to a pre-heated oven of 175°C for 1½ hr.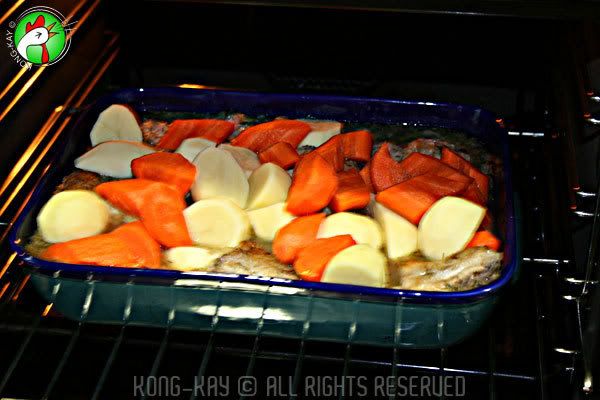 Then lay potatoes and carrots into the dish, submerging into the liquid. Return to the oven for another ½ hr.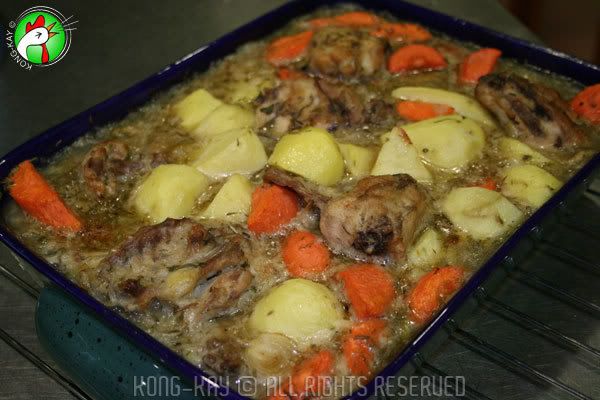 Add salt to taste and thicken with the flour (used for coating).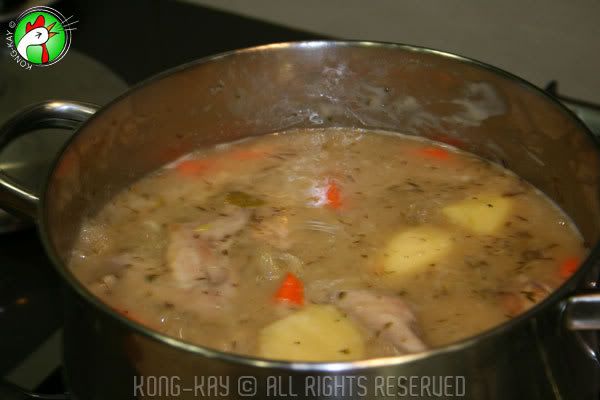 As in my case I had to transfer to a bigger pot for thickening of the sauce.
---