This

Laksa

stall is among the more renowned ones in Kuching, being the fact the it offers large shrimps, and with their heads intact too! It's been favored by you know who!!!; due to the fact that the shrimp is large, or due to its proximity, or god knows what?!!!

I seldom patronize this place: 1) It's out of the way 2) Parking is atrocious 3) Eating shrimps with shells on is bothersome 4) The medium-size shrimp's head has got nothing to be sucked out of. 5) Its

Laska

soup is on a constant boil during peak period (know what it does to the coconut milk base?). On this particular day, the soup is salty; not salt salty, but in a

belacan

kinda way. No matter what I say, this place was once voted as having the best

Laksa

in Kuching in an SMS poll.

Below is a bonus for someone, you know who!!! (The rest of you TFSU!!!) She's a picture of health and and most importantly: happy!!! She's having

Laksa

, and you're not!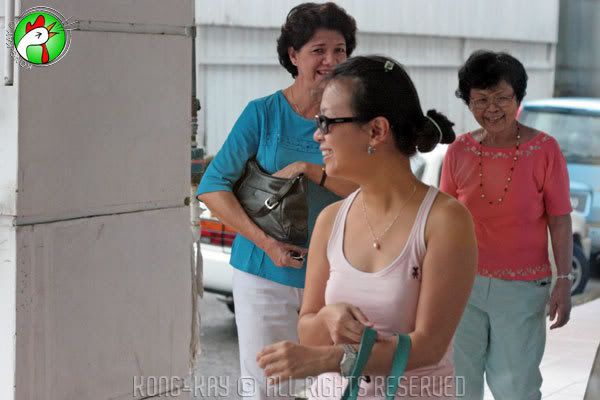 *Normal programming Cook-Out will be on tomorrow with a

Fish Dip

. The All Malaysian Bloggers result is out and moi is not in there. Congrats to all the winners!