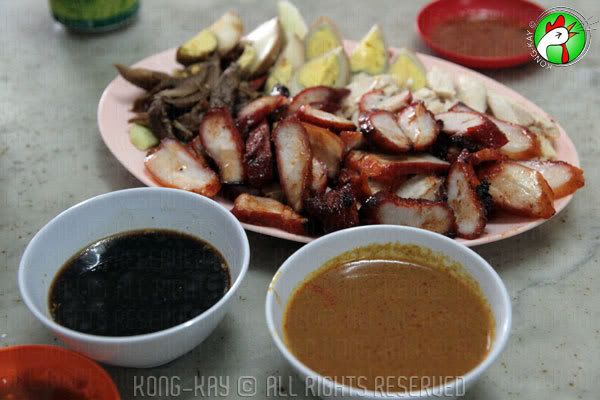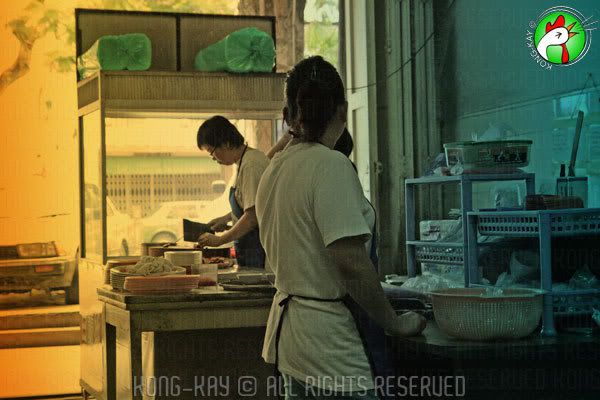 This is another recommendation from a reader... a less-than-obvious old haunt of a chicken rice shop. Although I traverse this route many a times, it has never occur to me that there's a chicken rice shop here... sure, there are a couple of better known ones farther down the road, of which I'll deal with later blogs.

This coffee shop still retains its old form; with a staircase near the front leading to living space on the upper floor. One thing that strikes me is that this is a

Charbo Peng

(all-girls trooper) enterprise. According to one of the girls, this chicken rice shop has been in existence since her great-grandpa's time, over 40 years now.

Here's the scenario: Arrived here after 2 p.m. on a Sunday, and there was another occupied table in an otherwise deserted coffee shop. I spied with my tiny eyes at the cut chicken breasts on the tray in the display window; seemed to be the only type of meat left. So I ordered "everything" for 3 persons, meaning a mix of every type of meat they had. There were braised eggs, braised duck, poached chicken breast and roast pork (

Char Sui

), with curry and soy sauce gravy and the

sambal

condiment. No chicken rice here... apparently ran out.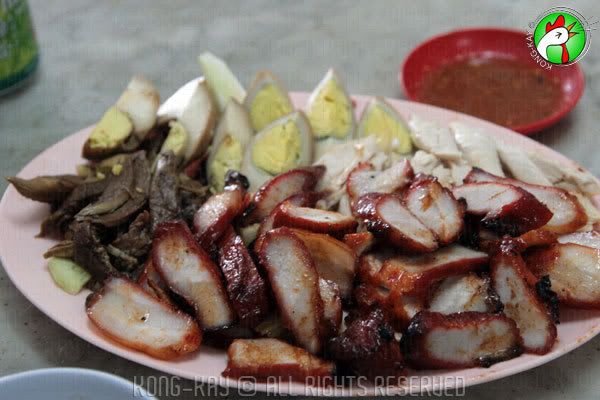 What can you say about chicken breast meat? There's not much praise you can heap on it, unless you're one of those who has a fetish for white meat. The

Char Sui

was the best part of the whole meal. Having not tasted it, I can't comment on the chicken rice; however, the huge

Planta

(margarine) sign on top of the display box is a dead giveaway. Health issue aside, wouldn't you rather taste the full flavor of chicken fat coated rice than a margarine color yellow rice?

And now, the clinker... RM30 for the whole - minus the 3 cans of drink, it worked out to be RM8.50 per person; the most expensive mixed meat rice I've ever had on this side of the China Sea. They must have mistaken us for Singaporean tourists.