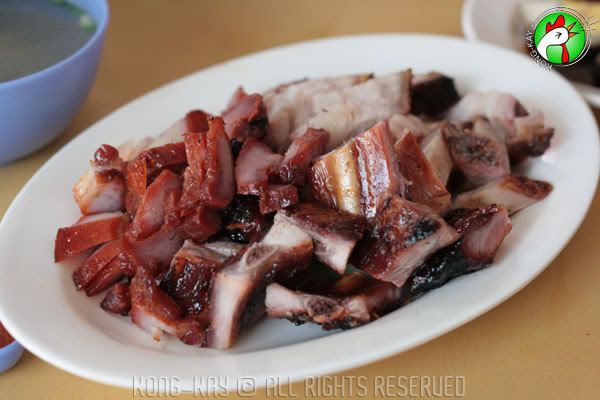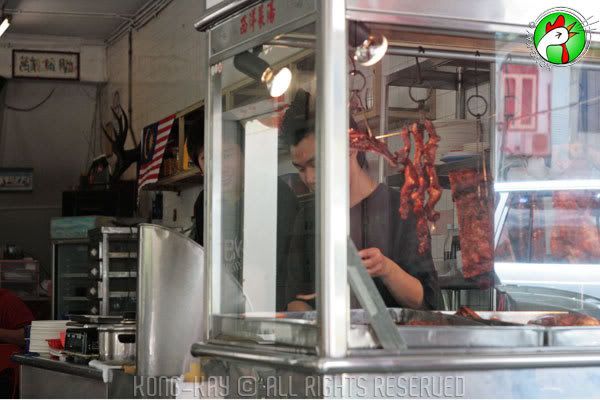 If you were on the lookout for me at this shop after the last comment, you'd be greatly disappointed. This post was long overdue... the pictures are a results of several visits in the past months.

This BBQ shop is located near the Chinese arch end of Padungan Road. I've always considered the prices of the food served here to be on the high end until I came across Loke Restaurant. The most I've paid for a 3 person meal of mixed BBQ meat is around RM23, and that is inclusive of drinks.


The assorted meat that they have here are roast pork (

Char Sui

), pork belly, ribs, chicken and duck and sausages. Then there is the additional soy sauce braised eggs and

tau k'nua

(hard tofu). Lard coated rice is offered, apart from the normal plain ones. The other things that the waitress will always pushed are the fried vegetables and steamed soup, like watercress, which I never try 'cos the normal f.o.c. soup (mustard green, szechuan veg. or peanuts) tastes good enough; unlike at most places, which are msg. water being passed off as soup. The other thing that is worth trying is its home-brewed chilled Chinese tea.