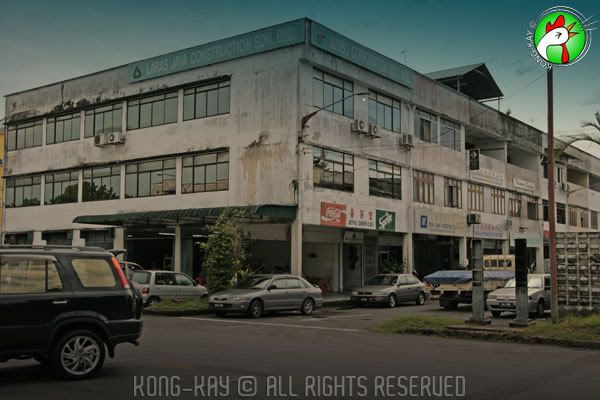 Thanks to SP from Marudi, who pointed this way-out-of-nowhere location for the

wonton

or

kiaw

(as Kuchingnite calls it). This is the third time I've swung by this place; the 1st time, it was closed on a Sunday; the 2nd, ordered the

wonton

soup; and this time, add the noodle to the

wonton

soup.

I've been to this coffee shop before - at happier times - before the stock market came crashing down - and this coffee shop was doing a roaring business selling ready-cooked meals. But I never noticed this noodle stall there. Was it there before the turn of the century? As if it's ancient history...

.... anyway, there are 2 relics there in this sparse shop, happily churning out noodles by the bowlful; they are relics in a sense because the price they charge and the amount of noodle or

wonton

that you get harks back to those decadent era; for a RM2.50 of

wonton

or

wonton mee

, you get a sinfully gargantuan heap of the stuff. And you wonder why other noodle sellers are so eager to hike their prices at the drop of a hat, while these two seem oblivious to whatever circumstances that surround them. And as for the

wonton

or noodle, there isn't anything to complain or compliment on them - it fulfills all the requisite of what a simple bowl of noodle should be.
If you're wondering where this place is, it's behind Hock Lee Centre, and opposite Chia Heng Restaurant - it's one of those less traveled route unless you're still in the game for speculative buying of Malaysian stocks, then you'll have no trouble finding this place.