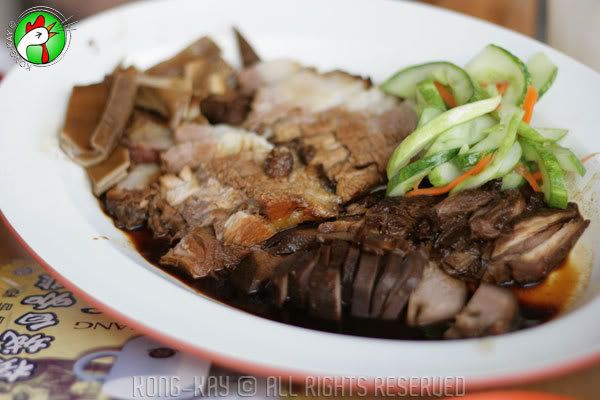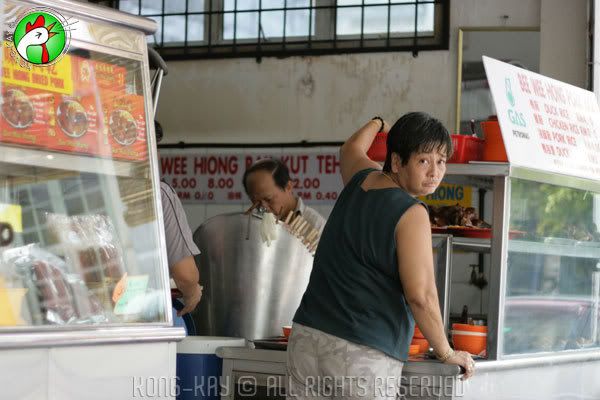 It's all about

Wee Bee Hiong

with this shop... from the name of its shop to its

Too-Kar P'ng

stall,

Bak Kut Teh

, and even the BBQ meat slices (

Bak Q
ň
ua

), plus the office upstairs. Quite a conglomerate, if you ask me. This is the last corner shop, one block down from the MAS ticketing office.

I haven't tasted its
Bak Kut Teh
, but from the taste of the
Too Kar P'ng's
broth, it tastes and smells like one; a bit of herbal flavor, which is good if you like that sort of thing. I prefer mine like the

Tau-Eu Bak

, no hanky-panky stuff, au naturel. The serving of the meat cuts and offal is generous for its price, and so is the vegetable curry and

sambal

sauce.



That's the way I have my rice (above) at every

Too-Kar P'ng's

place; dunking rice - drenched in soy broth and curry gravy! Ah Lee did comment that the way I have my dunking rice reminded him of the good ol' days of having curry rice the same way; he added that we could never go back to the good ol' days, not because the recipe has changed, but we have changed.