I thought I've featured this before until Mark left a comment on Ah Ho's wife Foochow fried noodle. So if it sounds dé·jà vu, here's it goes again...

Another Taiwan beef noodle, this is not! According to the proprietor, Ah Ho, he doesn't want something what everyone's been doing. There's no hot

tau-cheo

(fermented bean) paste here, but the soup is a bit hot and sour, plus a bit slimy. If I'm not mistaken, he did mention using

Chow-Chai

(vegetables
fermented
in rice wine lees), to which my mom said: "Siaw (crazy)! He won't reveal his secret recipe." Well, I've known this guy since he and his wife started at Rubber Road selling standard Foochow noodle and

Kompia

(Foochow bagel), or maybe farther than that, when he was a black belt holder in Tang-Soo-Do.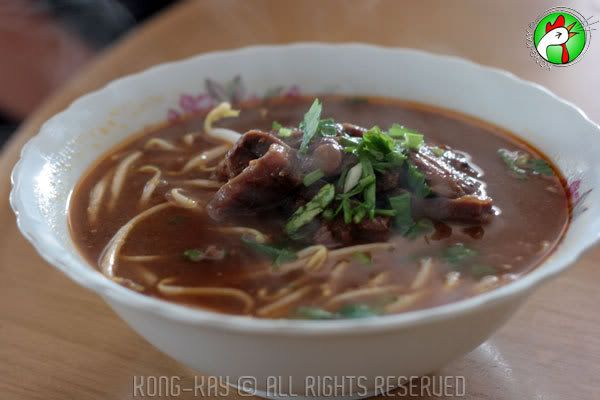 Although he serves a 'dry' version of the noodle, the soup is the way to go, or you'll miss out all its yumminess.
It's best enjoyed

souped-up

rather than "dry". The soup permeates the noodle, giving it the edge.
The sinew in the beef, of which he specially seeks out, adds a little 'spring' to the bite.
The soup is a bit spicy-hot and sour; the stewed meat is tender, absorbing all the goodness of the soup, and likewise the soup enjoys the full-flavor of the beef chunks.
It's the sourness of the soup the makes one come back for more.