This is a fairly new commercial shop lot at Stutong (Behind Tabuan Jaya), which was once a plot of squatters' colony, which mysteriously caught fire on fine morning. These rows of shops houses are mostly occupied by $2 bargain shops; that's what most of the economy thrives on. These shops are not to be scoffed at; some of them even accept credit card for any amount, whereas other better known supermarkets only accept cards with a minimum purchase of RM50.

I've highlighted the

Chun Fun

'cos it's not one of those regular dishes you find in Sarawak, unlike the common-dity in Penang. And this one is different; it features cut rolled flat rice noodle, with pork infused thickened soy sauce and minced pork, topped with chopped peanuts and green onions. Yuummms!

The rest can't be say for the rest of the stuff. The seafood porridge has the unusual ingredient of salted black beans added; it gives a salty fermented taste to the dish, which masks out the natural taste of the seafood. Why do that? The braised duck (

Loh-Ark

) is just average.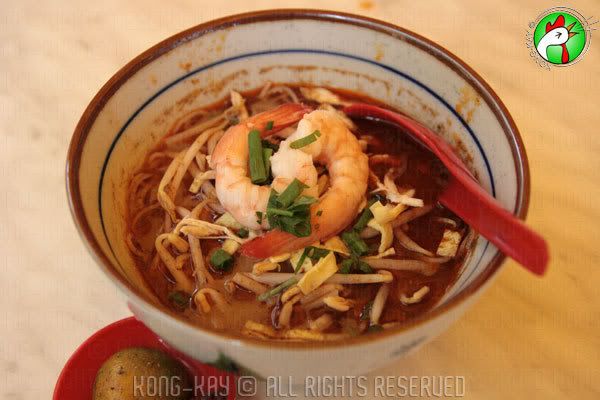 Own-Made Sarawak Laksa


This

Laksa

needs to grow on you... it's not the usual

Swallow Brand

concoction of a paste. It has a rather strong flavor on certain spices, which need getting used to. Same as the

Min Heng

coffeeshop's, which I had almost daily once upon a time; but when I was back to the place few months back, it somehow needed re-acquaintances to its

Laksa's

pique flavor.