How do you cook for 55 St. John Ambulance cadets? With great difficulty! It's a lunch on a RM70 budget for a bunch of kids going through 4 days and nights of holiday training camp. Why pork, you might ask? Well, have you heard of Muslims joining the Crusade? Nah, not likely!!! That's why there are moon and star... and yet people still ask: What's in a name? Plenty, I tell you!

This is a rework of a previous recipe to the multiple of 6 or something like that, except the chilli bit is toned down a few notches. All the garlic/chilli/kaffir lime leaves, onion, carrot and mushroom are all blended in a food processor separately. The cup of water is used to rinsed off the residue of the blended ingredients and later added to the sauce.

I over-estimated the spaghetti - 6 packs would suffice - and there was 500 gm. of meat sauce left after the feeding frenzy. Even the girls commented they went back for seconds. Assuming half the numbers had seconds, the meal worked out to be RM1 per plate! Not bad, eh?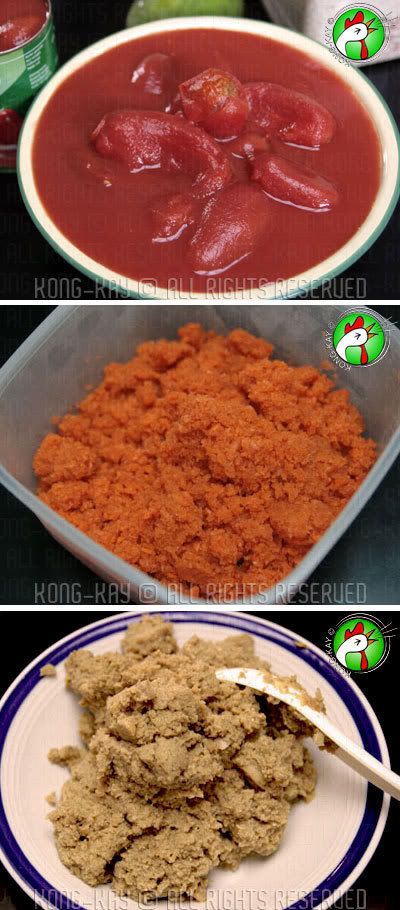 INGREDIENTS
---
3 Kg. Minced Pork
---
2 Bulb Garlic (minced)
---
8 large Onions (minced)
---
6 large Carrots (minced)
---
4 Cans Button Mushroom (minced)
---
10 Kaffir Lime Leaves (minced)
---
6 Fresh Chilies (minced)
---
2 Tbsp. Parsley,
Thyme &
Oregano
---
8 Medium Cans Whole Tomato
---
1 Medium Can
Tomato Puree
---
3 Tbsp Chicken Granular
---
3 Tbsp. sugar
---
Olive oil
---
Salt
---
1 Cup Water
---
8 Packs Spaghetti

---
METHOD

---
Add enough oil to the pan, and fry the onion for a minute or so before adding the garlic/chilli/kaffir lime leaves. Add more oil as needed.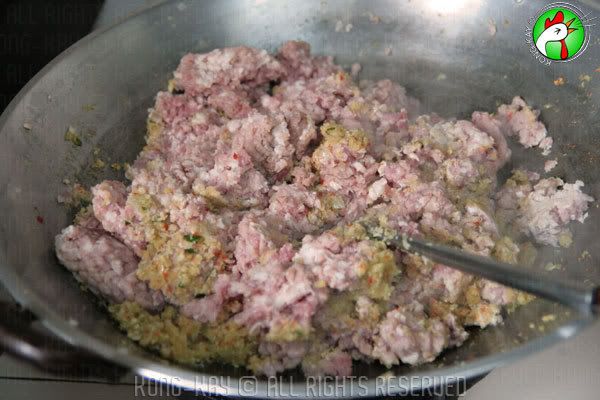 Once the garlic/onion mixture is fragrant, let loose the minced pork. Toss and mix well until its color is no longer pink.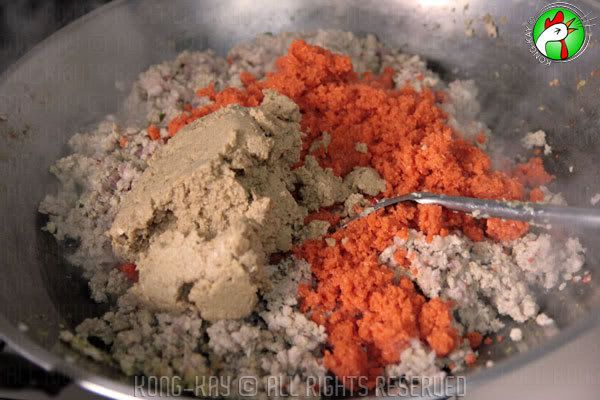 Next pile in the carrots and mushrooms.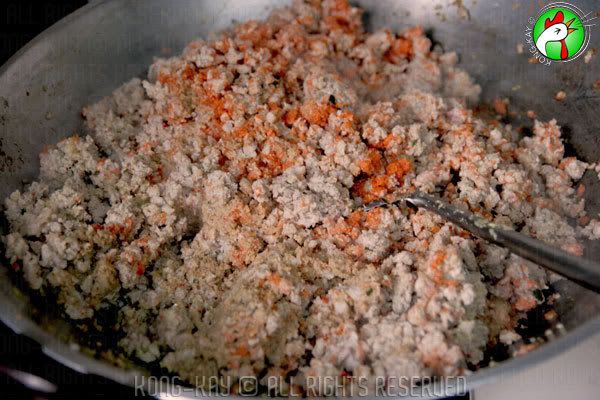 Have them throughly blend in with the meat. Lot of arm and wrist work.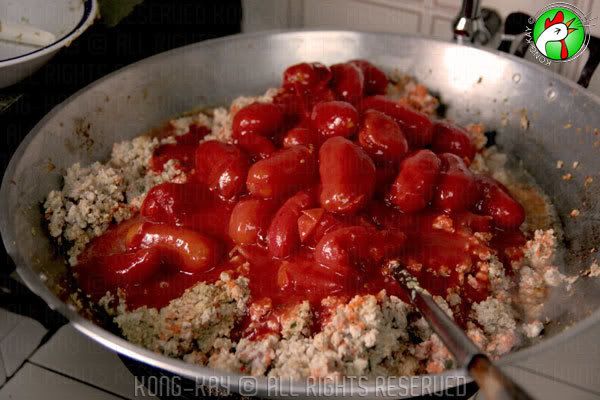 Finally add in the tomatoes and rinsed water. Try to squash the tomatoes as much as you can. They should be enough liquid to cover the solids.
Scoop in the chicken granules, sugar and herbs (vary to your liking). Mix well. Bring it to a boil, and then let it simmer for an hour and a half.

Stir constantly, scoop bottom up, to prevent burning at the bottom.

Meanwhile, boil a pot of water; add in about 4 tsp. of salt, a tbsp. of sugar and some oil. Cook the spaghetti al dente.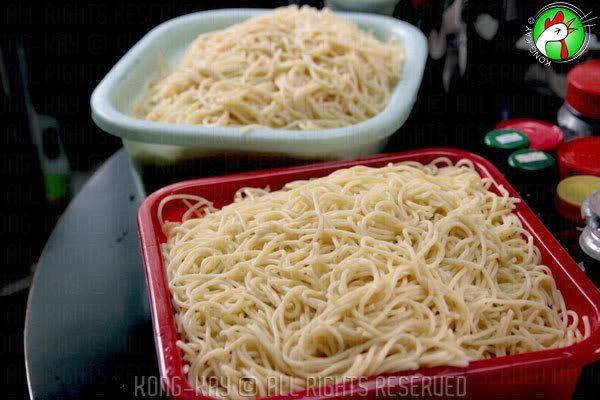 Two load full of pasta! Rinsed and left to cool. Later warmed up in the large wok of boiling water before being carted off the H.Q.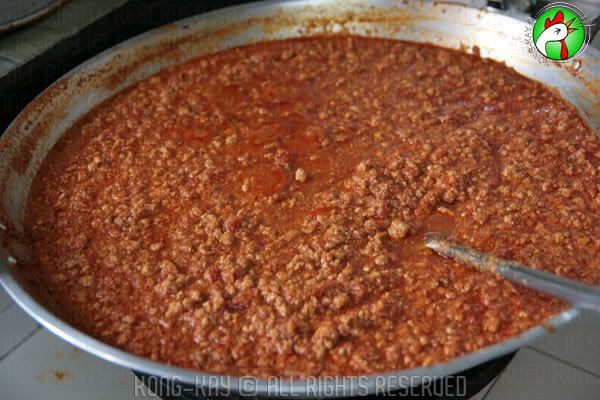 The rich tomato sauce permeated the meat after the long simmer. Taste and add salt if required before serving.

This is essentially a dry run for the young cadets to be prepared for the great outdoor exercise at the end of the year beneath the Bukit Matang. This is the inaugural program initiated by secondary 3'ers to train those in the lower grades; prior to this, this task belonged to secondary 4'ers and 5'ers.

This is a great training ground for the organizers; they need to plan the training programs, gather materials, get sponsors, t-shirt design and printing, and food for 3 meals plus tea - all on a budget of RM28 per person!

Apart from the break-a-leg/patch-me-up training, they have to cook the evening meals, which are graded.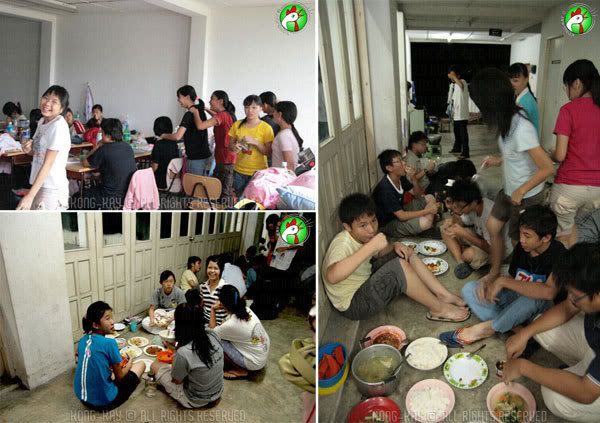 ---