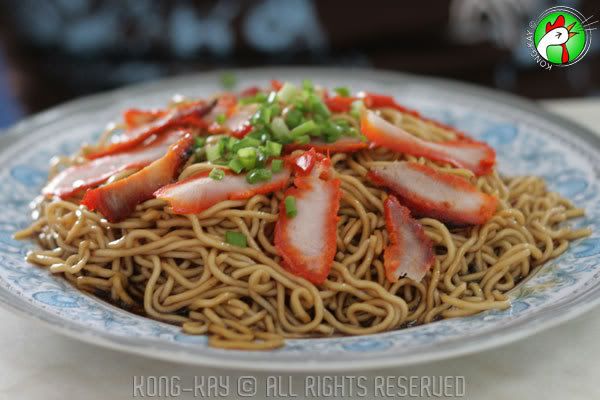 For a taste of yumilicious Foochow noodle in Kuching, this is the place to be. Prepared by the Chous from Simanggang or Sri Aman as some would have it called. They have been at this corner stall for as long as there is a Thompson's Corner in Kuching. That's how long I've been a patron.

How good is it? According to a Sibu's expat now residing in Koala Lampar: "Good enough even after going through a microwave oven after a 12 hours lapse." - packs a few bags back home after being introduced to this place.


If Ragú's tagline is: "

It's all in the sauce

.", this one will definitely be: "

It's the lard lah!

" Sinfully good to the last strip. The dark soy sauce variety is the preferred choice of many as compared to the plain white one. (

Do I hear some refrain: "I like the white one!"?

) Those of you who are into stereotyping, there's the RM3.10 version (as opposed to the normal RM2.60) to pique your wonder lust - the focus is on the amount of noodle not the "

liaw

". (

Another refrain: "Is that how the Foochows eat?"

)

This stall has a few quirks: no

pian-nik

(wonton) is served, and there's no white pepper in sight. If any of you spotted a pepper shaker lying around, it's mine!