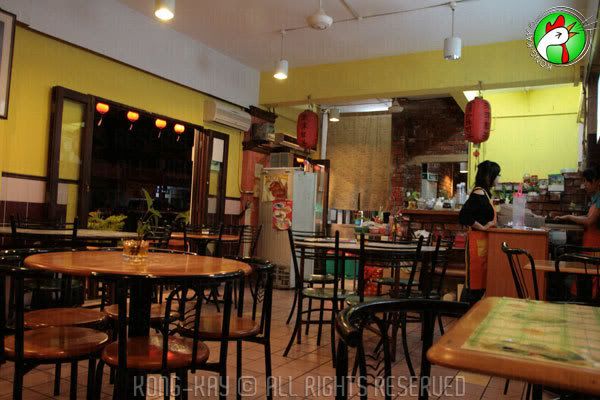 The name reminds me an English chap, whose favorite phrase is: "Jolly good!" But then he's a pathetic Kiss (Malaysian) Ass guy. You'd have thought you'd only see this in B-grade movies, but this is a role reversal in real life... anyway, let's get on with this place.


This corner shop (junction of Padungan and Thian Cheok) occupies the back portion of this 100 ft. deep shop house that is aptly called the Red Chamber, and it facade is in a red hue. It has a sign at the back that says "Hong Kong Restaurant". This is quite a quaint place with a hint of Taiwanese-Japanese theme. It even has 2 dug-in tatami seating cubicles.


Its menu has one-plate rice dish, noodle and other Chinese ala carte items, and also an extensive Taiwanese tea and dessert selection. The dishes we had were in RM5 range. The lamb was competently fried without any hint of the use heavy dose of baking soda as tenderizer, which is good; but its potion left a lot to be desired. Venison's potion was more generous and tasted good too. The place was quite empty for a Saturday evening, thus the food was quickly served. I assume this is more of a working-hour place for salary-people.