There are times when a one-pot meal seems like having a

get-out-of-jail

card... it frees one the laborious chore of cooking multiple dishes especially in a Chinese meal. It is also heaven sent if you're cooking for one. At the end of the day, there is just one pot or two to wash ie. if you're eating out of the pot.

Wash and pre-soaked the rice for an hour or so before use. Drain off the water well in a colander.











---

1 Cup Rice


---

1¼ Cup Water

---

2 Tbsp. Butter


---

1½

Clove

Minced

Garlic

---

1 Tsp. Thyme




---

1 Tbsp. Chicken Granule




---



---
100 gm. Minced Pork • 1 Tbsp. Light Soy Sauce • 1 Tsp. Sugar
1 Tsp. Cornflour • 1 Tsp. White Pepper • 1 Tbsp. Oil

---
OTHERS:
4 Tbsp. Cooking Oil
•
¼ Cup Milk
• Salt
• ½ Can Corn Kernel
---
METHOD

---
Fry half of the chopped onion and garlic with melted butter.
Add a teaspoon of thyme to the mix. Fry
until the onion is soft.
Add in the drained rice; stir well to have the rice totally coated with the buttered onion/garlic, and absorbed to the rice
Pour in water. Ratio 1:1.25 , rice to water.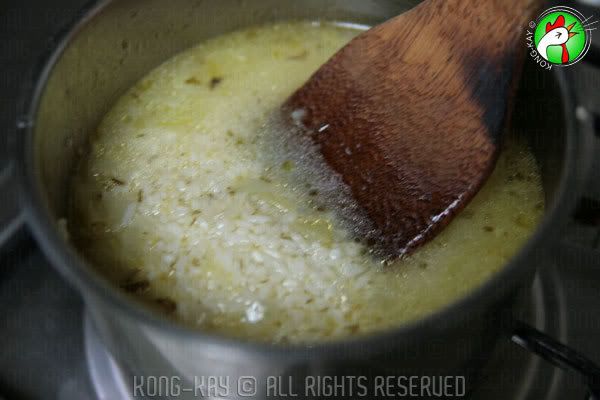 Stir the liquid, and toss the rice around.
Add a spoonful of chicken stock granular. Add salt to taste. (The stock should be slightly more salty than normal; the taste will be compensated once the rice is cooked)

.
Transfer the pot to a double-boiler (featured before) to have the rice cooked for 20 to 30 minutes.

Transfer to a rice cooker if you're using one, and have it done the normal way.
In another pot fry the remaining onion and garlic with cooking oil (4 Tsp.)until fragrant.
Add in the marinated minced pork. Quickly stir until it's no longer pink.
Pour in about a ¼ cup of milk. Let it cook for a while, for the milk to be absorbed into the meat.
Reduce the liquid until the meat is almost dry and yet moist. Add salt to taste.
The rice should be fluffy and cooked after 30 minutes.
Scoop the cooked meat on top of the rice pot...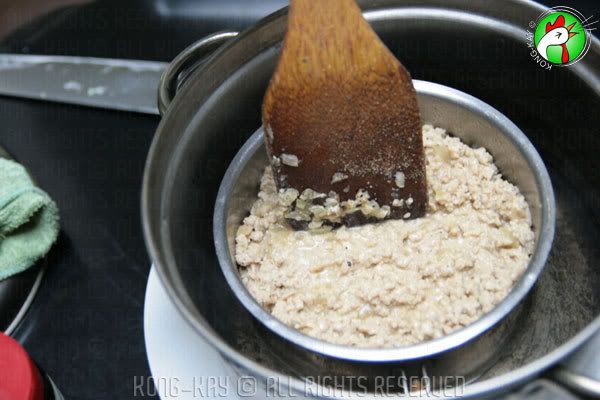 ... totally covering the rice.
Next spoon the corn kernel. Doing likewise as you did the meat.
Cover the pot and let is steam for another 5 minutes before serving.

In the rice cooker, do the same with the
keep-warm
button on.
---