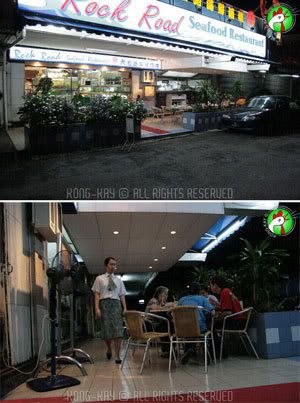 You don't have to be a prince to dine here... just a pauper will do; and you dine on the five-foot way, like we did. This is the famous halal seafood place in a most unlikely place, away from the usual cluster of eateries. This is the lone restaurant in the single block of shop houses among a housing estate, about a mile and half from town center, away from the tourist belt. This is better than the car park eateries on the golden triangle.

The place has fish tanks for live fishes and shrimps and lobsters, and it's not a gimmick; fresh vegetables and fruits are displayed for your selection too; all these take up on portion of the ground floor, while the adjoining shop house is taken by the open-kitchen. You can get a full view of the working kitchen from across the counter facing the road. Seatings proper are on the top floor.

The 5-foot-way dining is supposed to be for light casual dining, with a menu of rice and noodle. But one can still order more extravagant stuff from the mini market inside and have the kitchen served them out. Although this open dining area is close to the main road, you hardly notice the traffic. And it has a more secluded feel than the seatings upstairs.


We stuck to the local favorite of

Tomato Kueh Teow

, ie. fried flat rice noodle in light soy sauce with chicken and seafood topped with tomato ketchup sauce, and an order of Fried

Beehoon

done the Singapore way. I was expecting a curry-powder laced noodle with beef and onions, but I was wrong. It's a simple

dry-fry

with chicken and seafood as well. Nicely done! And they are around RM5 each.