Of all the

Ah Muis

,


In all the towns,


In all the world,


Ah Hua

walks into mine.



Rick would have uttered these immortal words had he not come across some blonde in Casablanca. The name

Ah Mui

is synonymous to beef noodle soup in Kuching, and there are several of them in town; the oldest being the one at the open-air market, which is run by the eldest brother of the clan. Ah Hua is the youngest of the first generation selling the beef noodle.

This isn't exactly

Phõ

as it lacks the fragrance of spices, onion slices and mint leaves. What goes into the broth, nobody knows. It's the broth that is packing in the crowd. Even non-beef-eating patrons swear by its

Kolo Mee Kosong

; it's just noodle mixed with soy sauce, msg, the beef broth and garlic infused oil.




I've been patronizing this stall since the days when its most expensive bowl of noodle cost RM3; and I had mine "

tambar

" to RM4 with just lean meat. Nowadays his RM5 is just dandy! I've asked Ah Hua why his brother's broth (open-air market) is pale compared to his; "It's all in the bones", he said. The RM60 leg bones are only rendered twice for a double recipe; there's no skimping on the ingredients. Its garlic oil with the crispy garlic bits is another wow factor.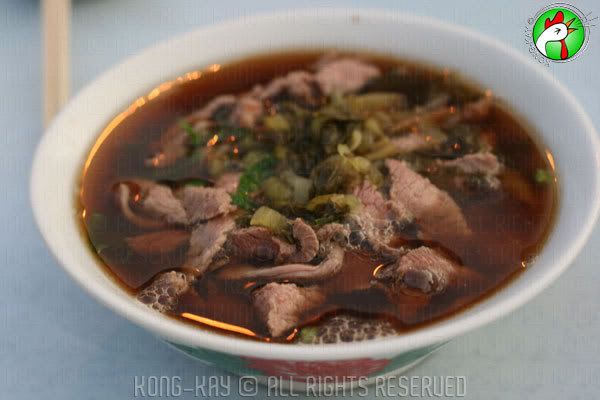 These days it's the Jr. who's running the show with Ah Hua doing the busing. I certainly missed those days when his foul mouth started to blabber once the pressure of the orders came piling in. It's Jr's turn now, and Ah Hua is on the receiving end.
The photos were taken quite sometime ago, all the stalls have since shifted from the parking lot to the top floor of the

Sg. Maong

Market.