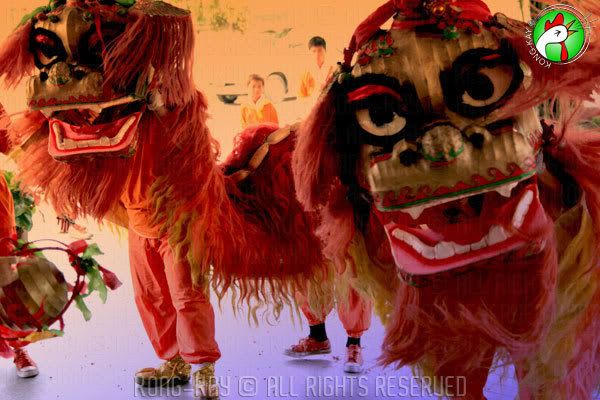 It's always a prosperous (Chinese) New Year for restaurateurs, while poor sods like us have to pay through our noses for a meal at this time of year... somehow they always manage to repackage their food under auspicious sounding names with an even more extraordinary price tag.

One dish that doesn't have a very long history, but gains high regard through word association is the the Yee Sang, which literally means "Raw Fish"; but its title has a grandiose sounding zing like overflowing wealth. It's a simple salad dish comprising of finely julienned carrot and radish, crispy fried dough with thin slivers of salmon and other stuff blended together with plum sauce and oil. The significance of having the dish is in the act of tossing the salad and causing an upheaval with the "loh hei!".

We didn't exactly get suckered in to the New Year's gimmicky... our menu consisted of items off the rack, so it didn't have any bearing or significance on the occasion. By the way, we always eat in on eves of X'mas & New Year, Valentines and Father's and Mother's Day, so that we can have twice or even 3 times the meal on normal times...
...but then again, this is

The Banquet

; we were back to square one. The food wasn't bad though, ditto for the service despite a wedding dinner and sedate revelry next door. No foul-ups or cold dishes served this time around - fresh and crisp throughout. Wish they had provided knives for the venison.