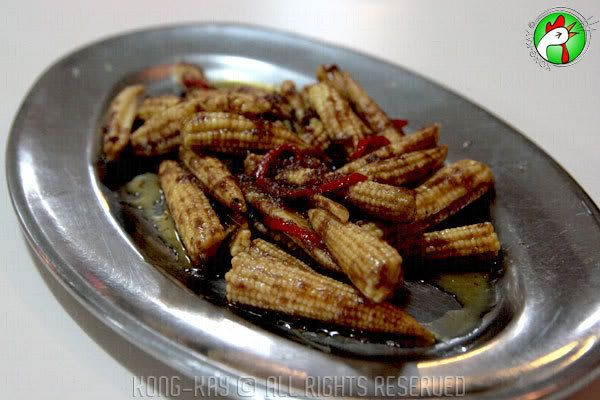 Fried Sambal Baby Corn
This is considered a wayouttatownkindaplace - for us beyond 7 miles is regarded as far (

S'nua Te'n

already!). When you're this way out, out-of-town, the culinary compass usually points to something of the wild nature. Anything remotely associated with the sea is farthest from one's mind, and this area is not known for its nocturnal dining apart from the aforementioned.
Although I've passed this place several times during the day, this passage is less traveled at night as it's considered the wilderness, unless you live at this neck of the woods (One traffic light past 10th. Mile township). And It was brought to our attention by the front-man at 10th. Mile's

Swee Sen

- a culinary adventurer during his down-time - there isn't much going at his tiny hamlet when the sun goes down, and this warehouse-shaped eatery is a mecca of activity like the Sands was in its pioneering days at Las Vegas.
The food isn't a shabby as its surrounding area, and its price is agreeable to every countrymen. Hey, it has even got its signature dish, buttered mushroom (if you've tasted buttered shrimps, you'll know where it's getting at), unlike some fancy named restaurant that puts out also-ran dishes at exorbitant prices. There isn't anything to nick pick on the food - good to the last drop for a

Zi-Char

. Food came out in a jiffy despite the crowd. And best of all this isn't a

Slaughter 5

.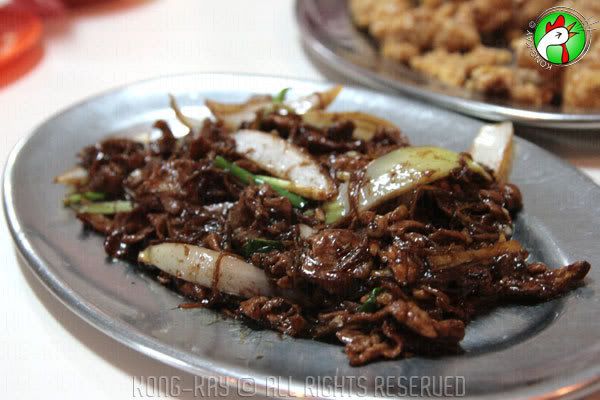 Ginger Wild Boar


Notice anything peculiar from the photos? Despite its name, none of the dishes we ordered were seafood, saved for one - the oyster omelette; even the oysters are imported from New Zealand. Subconsciously, we don't associate this place with seafood due to its locality; hence the omission. Next time... there'll be a next time!