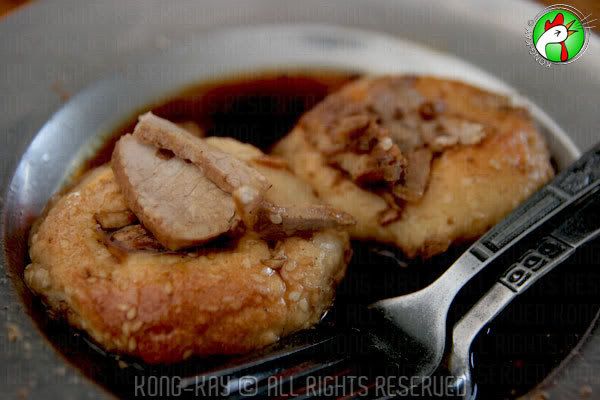 Some people goes ga-ga over these stuffed

Kompia

(mini Foochow bagel) - whether for real or just a case of mass hysteria, like lemmings. I think it's more of a teenage phase thing like going to schools nearby, and hanging out at this place with buddies for a drink or two, and drowning a couple of these

Kompias

. Imagine

Pop Tate's

Chok'lit Shoppe

, if you will.


I've been brought here a couple of times, but have never really paid much attention to the grub served until now. First off, this home enterprise is run by a couple of Teochews, the Yeos. (Do I hear some grasps from the Foochows?) They've been at it for a couple of decades, I reckon. And the majority of its clients are Foochows... is that a sign of endorsement or what?




For those who are clueless as to what all this stuffed

Kompia

is all about, refer here. Although the

Kompia

is slited horizontally, it's not for stuffing the meat into, but merely for the gravy to be soaked into the biscuit when it's dunked into a plate of the gravy. The sliced meat is laid on top of the

Kompia

(as shown in the photo) for economic reason (less labor and pathetic amount of meat). Notice the lean meat, as opposed to pork belly used in days gone by... signs of health-conscious times.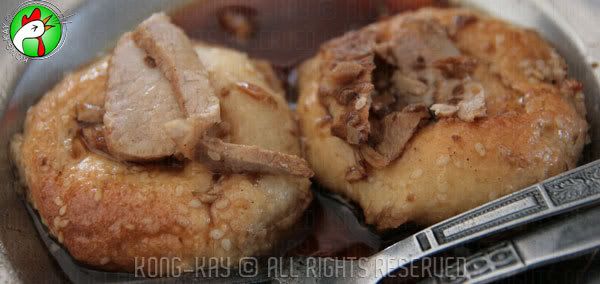 The test of a good stuffed

Kompia

is in its braised meat and sauce, after all the

Kompia

is sourced elsewhere. The meat is dry and lacking any taste, and its sauce is like a
star anise/five-spice powder infused
lightly colored water. Totally insipid. This is nothing like those sold by the past masters of Ho Ping Road and Mission Road; it pales in comparison - in looks, smell and taste. Looks like the patrons are indoctrinated into its taste since childhood more than anything else.