With the festive new year 'round the corner, I'm sure there will be lots of leftovers. Every year, inverably we end up with

Kiam Chai Boi

with the leftovers. As for this recipe, I only use the remains of the roast duck from a previous night encounter, and there was about ¾ duck left.

I remember having a nice

Kiam Chai Boi

at Johore once with the duck's neck as its main source for the stock. So this recipe follows the same trait. However, if you're a stickler to the original recipe, where

ham-pa-lan

(everything) goes into the pot, you'd better refer to here, and follow the step-by-step below.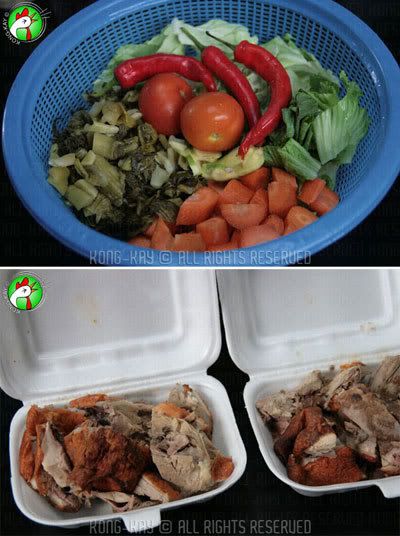 INGREDIENTS

---
100 gm. Kiam Chai

---
4 Carrots

---
2 Tomatoes

---
3 Red Chillies

---
1 Fresh Mustard Green

---
8 Leaves Cabbage

---
Leftover Roast Duck

---
4 Tbsp. Dark Soy Sauce

---
3 Tbsp. Light Soy Sauce

---
6 Pcs. Dried Assam Poi

---
METHOD

---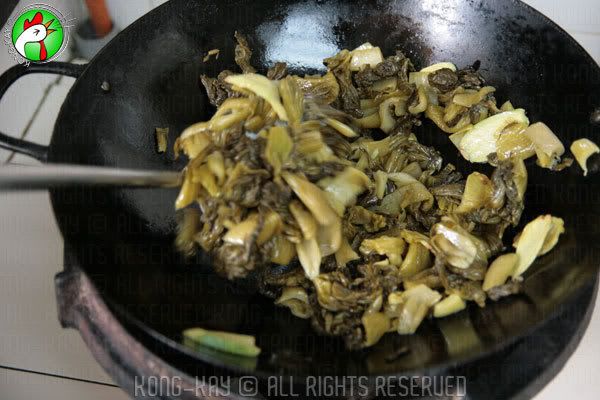 Wash the Kiam Chai (preserved kak-chai), and wring out dry. Cut into bite size.

In a dry wok over medium heat, fry the

Kaim Chai

to dry it further until most of the water evaporates, and it also dispel some of the fermented odor of the vegetable. Remove the fried vegetable to a soup pot.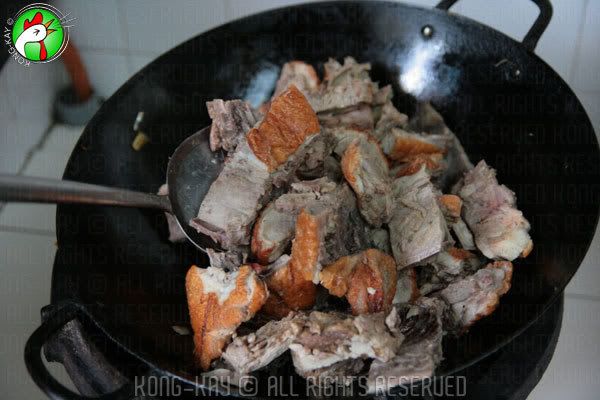 Heat up the leftover. Give it a run through in the wok.
Lay the meat on top of the

Kiam Chai

.
Finally lay all the raw vegetables on top, covering the meat.

Pour hot boiling water into the pot, enough to submerge all the ingredients.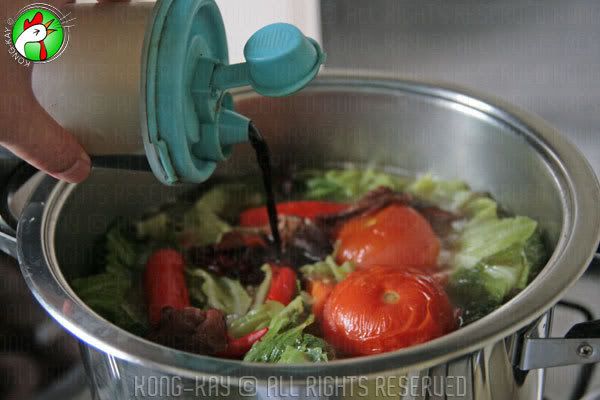 All dark soy sauce for color. Let the broth boil, and then simmer for at least 1½ hours.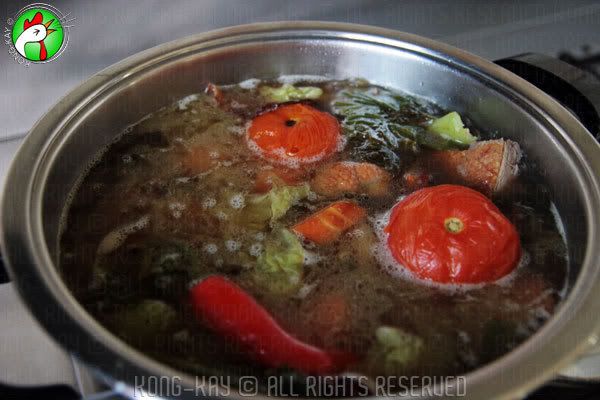 The longer it simmers, the more flavorful the broth becomes. Add salt to taste if required.

The amount of chilli and

Assam Poi

(dried tamarind pieces/
Asam Gelugor
) can be increased to your liking, if you want more 'heat' and sour taste.

---