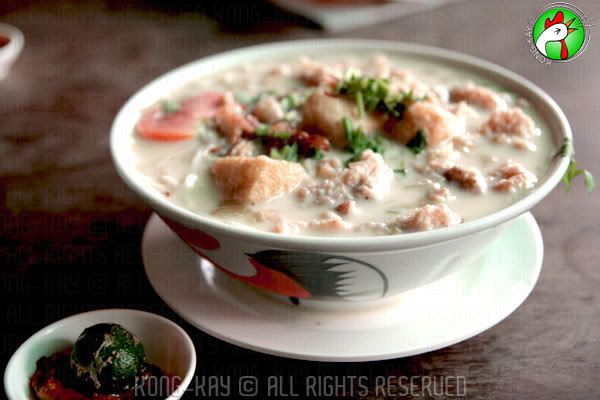 I've come across the Eurasian l
ooking lady
running this eatery several times at the market and at the

roti kahwin

shop along Temple Street; but never knew she's running this place until I parked the car near her kitchen, at the back of the shop. The shop is in the block that houses the Hokkien Association from across the road of Harbor View Hotel. And next door is a sort of local run lodging house. From its setup and its food, it seems to be catering for the tourist trade, not your usual

Kolo Mee

and

Laksa

crowd

; and you know you're no longer in Cheapville from its prices on the menu.

However, it's higher than the average price is reflected in the ingredients used in food. The vermicelli in fish soup (above) has all the right ingredients and almost right flavor - the milky color of the soup seems like it'd be induced rather than from naturally brewed.

The Thai inspired fried rice (below) has the correct balance of heat and the spiciness, and the richly seafood endowed rice tastes as good as it looks. When the check hits you, that's when reality bites; you know you're not in Thailand! Seriously, it's not that expensive...