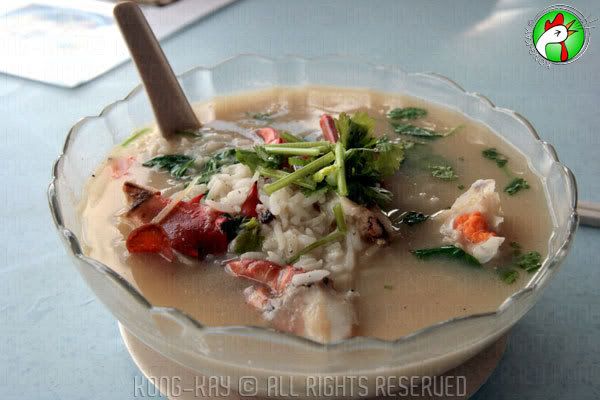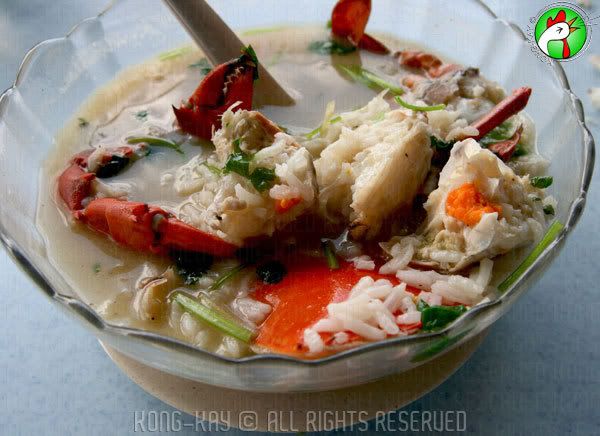 I was informed of the availability of Teochew crab porridge for Sunday breakfast when I dined here the previous night. However, when I was here for lunch on a Thursday (the day after the SPRING has sprung), I was pleasantly surprised of the dish being served that day.

I have heard of similar dish sold elsewhere in town, and this is my first encounter of this marine beast... beast in a sense that it's more of a bragging dish than anything else. It's not everyday you have crabs, let alone crab for breakfast or brunch.

Truth be told, there's nothing special about this dish, except for rice to be cooked in a costly seafood item's broth. If you recall the way Teochew porridge is cooked, it is as simplistic as that. No doubt the broth has a pelagic flavor to it, but when it comes to eating the crab, it's another kettle of fish; it's all fives or sixes, that's the fingers and thumbs, working in tandem with your mouth. And it can be a smelly affair; you know when you have crabs in restaurant, where they provide a bowl of lime juice water to bathe your fingers... well, the fingers stank just as bad, and the lime bath is not provided here.


Well, the fried

beehoon

with Chinese sausage and stout bean sprouts (below) looked dainty. I didn't try though... I had my hands full.