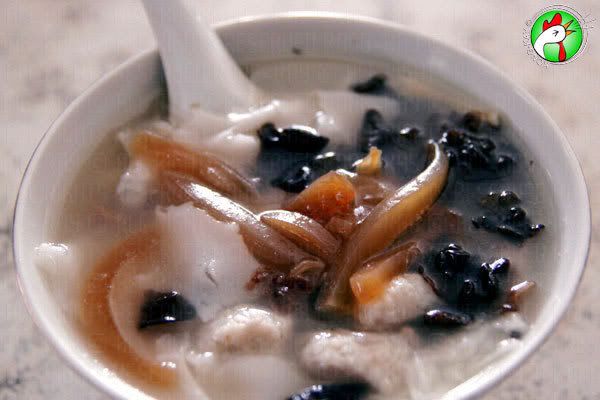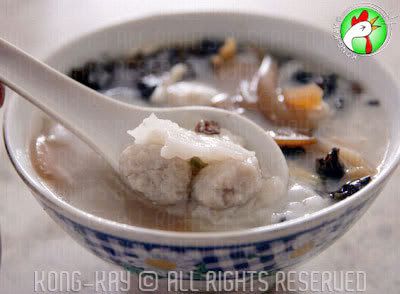 When I was in Sarikei, I wanted to try the town's

Tien Mein Hu

, wok-scrapped rice flour noodle; but was dissuaded from it by a Johorean in town, saying that the one in Sibu is the best with its home-ground rice flour. That little endorsement from an outsider is enough testament to the legend of fans this fame Sibu's eatery holds.

It's a pilgrimage of sort whenever I'm in town... a visit to this shop is a must. Nothing comes close to this original taste in Kuching; however, there was once a lady at Ban Hock Road café whose

Tien Mein Hu

was up to the Parthenon, then she "cabut"; Poof! Into the nights.

The time I was here, the place was packed to the brim, so had to settle at the coffee shop across the alley; outside food is allowed here. This gives me a good vintage point to shoot the whole shop's operation : Notice the red basin above the blue plastic bucket (left), this holds the cooked

Tien Mein Hu

. This is the way it has always been cooked - by the basin-full, not on a cook-to-order basis. The man with back-flipped capped is feeding soaked rice into the motorized stone grinder; that's where the fresh rice paste is extracted.

For those not familiar with

Tien Mein Hu

, it's Sibu's version of

Kueh Chap

; albeit with seafood (fish balls, cuttlefish and woodear fungus) instead of pig's offal. Unlike the

Kueh Chap

, the

kueh

is made on the spot, with the rice slurry ladled around the wok; and when cooked, it's scrapped onto the pork broth, which is boiling beneath.