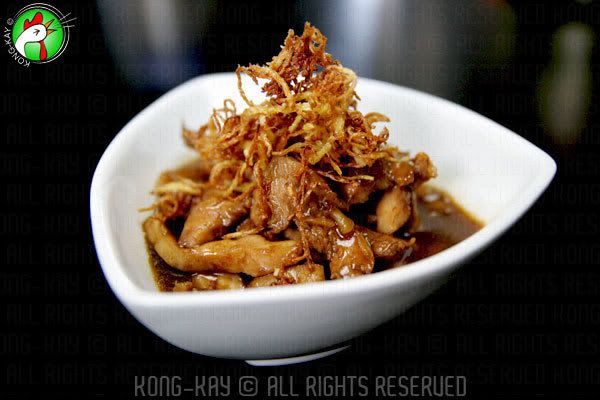 Contrary to what I said in the last post, my mum doesn't have a

K'nio-Si Kay

recipe, or anything that resembles Kim Joo's. The closest she has is one that has chopped chicken chunks fried with julienned ginger. Anyway, my mum never taught me cooking, although I do eavesdrop on her cooking now and again in later years.

The following you're about to witness is not, in any way, the true original recipe handed down for generations; it has too many

macam-macam

to qualify as an authentic home recipe, which often requires straight-forward no fuss technique, with no marination but with stuff added as you go along. So don't come complaining: " My mother doesn't cook like that, mah!"

I'm not a ginger person, as I use ginger very sparingly. The amount indicated is only a rough indication, so use your discretion according to your preference. The whole zest of the dish is to have a ginger scent chicken in smell and taste. So the use of sesame oil and garlic is to compliment
the key ingredient
, not overpower it.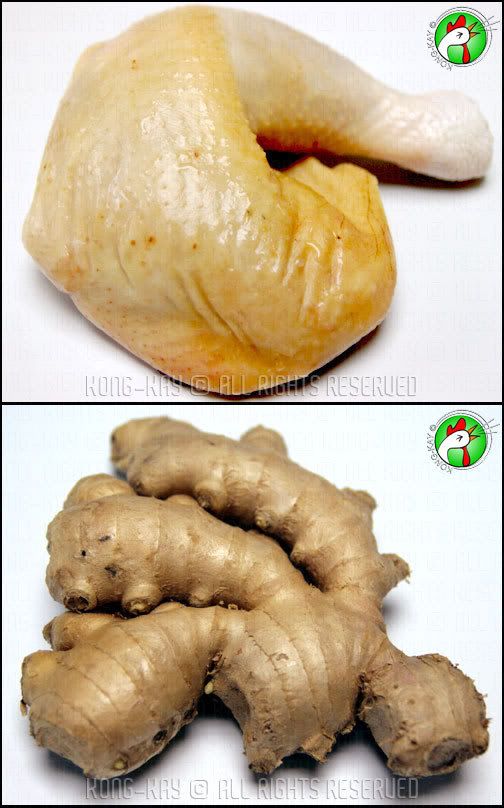 CHICKEN MARINADE

---
1 Chicken Thigh (Boned, Skinned & Sliced)

---
1 Tbsp. Ginger Juice

---
1 Tbsp. Dark Soy Sauce

---
¾ Tbsp. Light Soy Sauce

---
1 Tsp. Sugar

---
1 Tsp. White Pepper

---
1 Tsp. Cornflour
---
1 Tbsp. Cooking Oil

---
METHOD

---
Mince about 10 gm. of ginger in the blender.
Then place the minced ginger onto a tea strainer. Use the fingers to squeeze the juice from the ginger.

The juice from the ginger is to be used for the chicken marinade.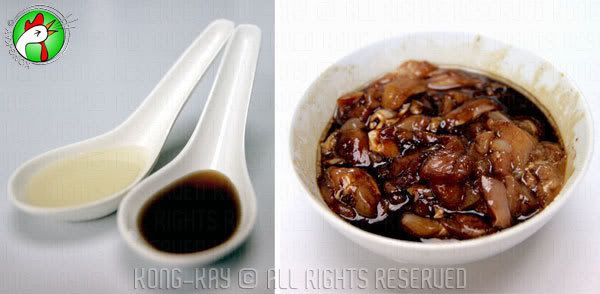 Mix 3 tbsp. of cooking oil with 1 tbsp. of sesame oil. Set aside for frying the ginger.

Marinate the sliced boned and skinned chicken with above ingredients. Let it stand of at least 15 minutes before use.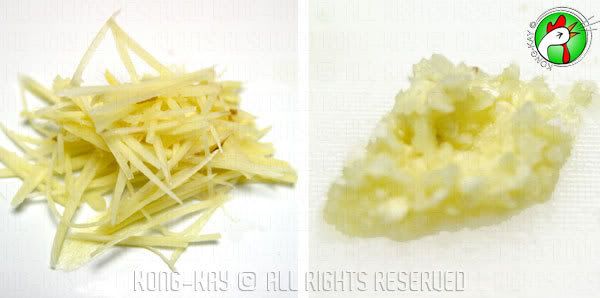 Julienned 30 gm. or more of ginger as finely (even size) as possible.

Minced ½ a clove of garlic.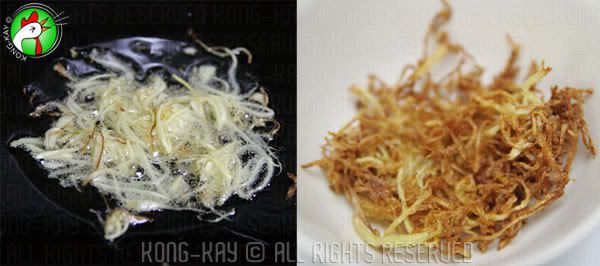 Heat up the mixed oil over medium heat. Fry the julienned ginger until golden brown. Toss and turn to get even color and avoid burning. Scoop out and set aside for later use.
Fry the minced garlic in the ginger-infused oil until fragrant before putting in the marinated chicken, drained off excess marinade liquid, and reserve to be used later.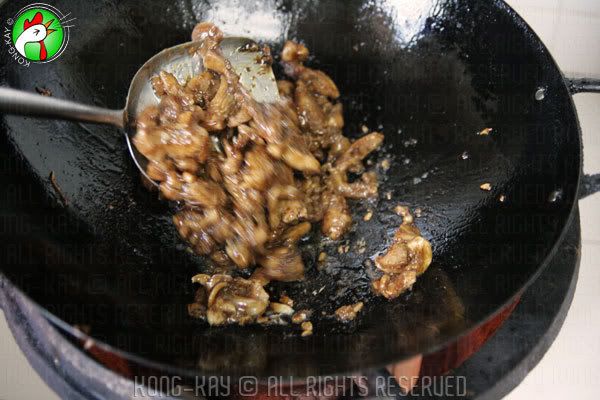 Toss and turn briskly until the color changes from pink to gray...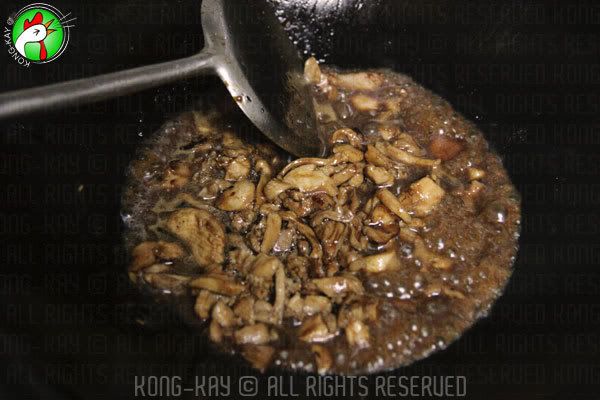 ... add in ½ a cup of water, plus the marinade liquid. Stir to mix throughly.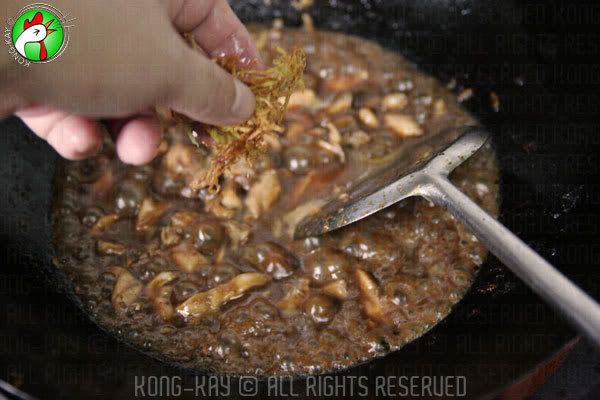 When the liquid comes to a boil, toss in about ¾ of the fried ginger. Let the chicken and its sauce absorb the ginger flavor.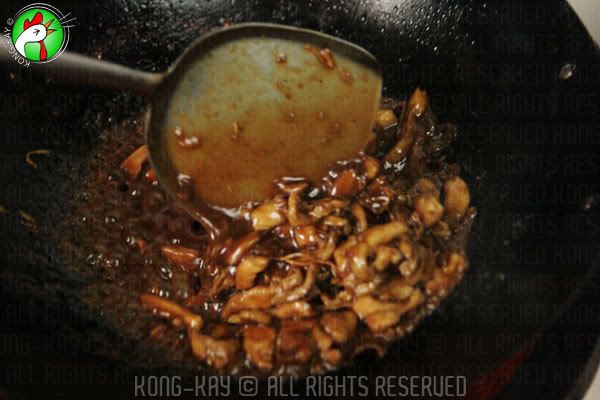 Reduce the sauce by a ¼. Add salt to taste if necessary. The cornflour in the marinade would be sufficient to thicken the sauce slightly; if not, thicken slightly with cornflour slurry.

Scoop out, and garnish with the remaining fried ginger.

---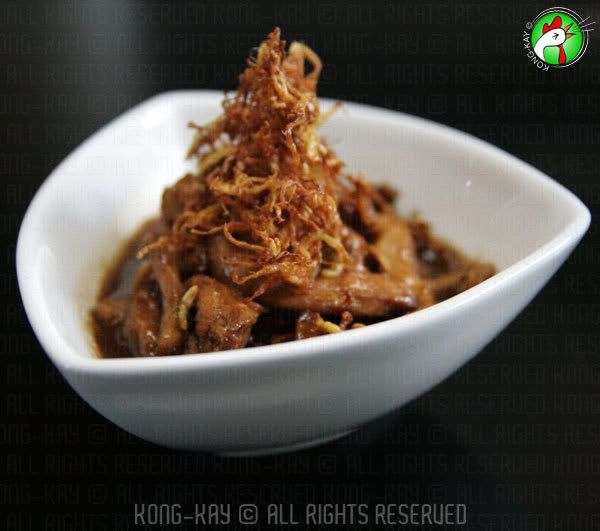 ---
* If you're looking for a Kim Joo's experience, loose the ginger juice, light soy sauce, cornflour and water and even the garlic; mind you, I'm not exactly saying that's the way to go, but then again there's a high probability that it's the only way to go!