This is the final installment as promised... rounding up the trio of a review of the Ling Loong's namesake. This is the smallest of the chain, and the choice and variety of food is lacking. Nonetheless, the price is cheaper than the one at the town's car park.

As recommended by Dee, the calamari fried with butter is delicious to the crunch... you'll be biting the crumbs off the plate. The eggplant dish would have been excellent had it not been for the tiny dice of the vegetable; it's like biting into nothing comprehensible if you had not known it was eggplant.

We were told they ran out of mango for the fish, but the dish that was delivered told a different story. Like the other 2 fishes, it was crispy that had us chewing into the fins, tail and head,,, good to the last drop. The curry clams was a bit disappointing as it came out wet and entails a fishy after taste...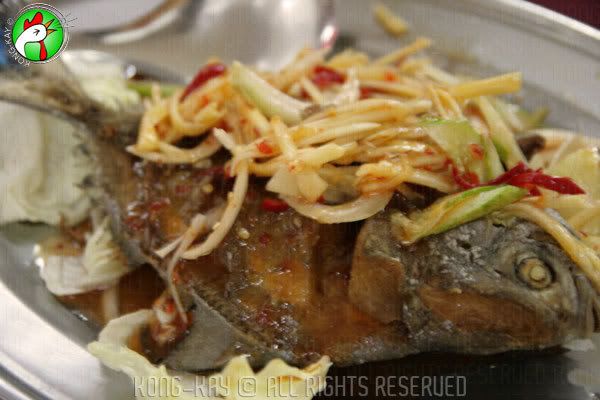 Thai Style Black Promfet (RM20)