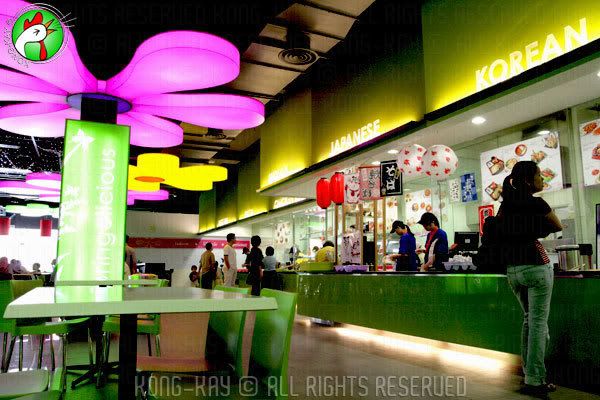 Here I was for the second time for brunch at 11:15 a.m.... what do you know? The first dish I wanted wasn't even ready. So had to settle for the more familiar ones. And this place is quite sparse of customers for a holiday. I noticed a few stalls has gone to the dogs since its opening about 2 months ago. Such is the reality doing business in Kuching... there isn't more than meets the eyes, especially with a over RM2000 rent, plus over RM100 for the use of the cash machine, on top of the 12% cut from sales.

We had a set meal (left/below) consisting of Beef

Rendang

,

Telur Balado

,

Sayur Lodeh

and

Keropok

. The

Rendang

is a bit too dry, lacking a gravy - it's like a tenderized version of the beef jerky. The

Telur Balado

is like Acar egg or Thai's Son-In-Law's Egg sans sans the sauce, but with lots of chopped pickled chillies.

Sayur Lodeh

is the bowl of sour vegetable soup, which doesn't have the spiciness of Tom-Yam, and more akin to the Filipino

Sinagang

. Well,

Keropok

, for those who need translation, is shrimp crackers. It's an unfulfilling RM7.50 meal.

The

Nasi Goreng Kampung

(below), which I had a bite of the fried rice, but not the fried chicken, seemed like a better and cheaper deal. It's rice fried with

k

icap manis

with a strong hint of pound dried shrimp. The other accompaniment, apart from the fried chicken and egg and

keropok

, is the pickled cucumber and carrot.


Maybe the expectation is a bit high when coming to a joint like this... when style doesn't gel with substance, you'll bound to get unequal vocal quiver.