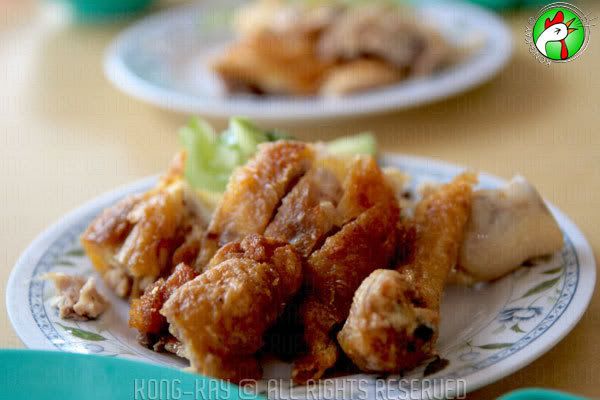 This is a corner coffee shop as one approaches the 3rd. Mile flyover, right after the police station. It used to have decent

Laska

and those one claypot dish, but not anymore (just found out on this visit). Instead there is a

Kolo Mee

and this chicken rice stall called

Flashcity Chicken RIce

. Since we were there already, might as well settle for the chicken rice.

The

La K'nia

(politically incorrect sounding) reference is not meant to be derogatory but a general inference to a group of natives collectively, be they

Bidayuh

,

Dayak

etc. Well, this stall has a sole

La K'nia

lady manning it. Although it has the ordinary poached chicken, it has fried ones as well, with yellow color overtone on them - result of turmeric (

kunyit)

powder rubbed on the chicken. That was what we had. The chicken rice is just passable for a RM3.50 meal, nothing outstanding.