This is my mum's handiwork, and I have no part in this episode, except for being a

Kay-Po

. This is a recipe passed on by the late Ah Mee-Ee, whose family eats this dish alone on the first day of Chinese New Year, in observance of the one-day vegetarian practice.

It seems like a simple dish, and if you dump everything into a pot a let it simmer, it may look like the final product; but does it taste the same? That's what we're going to find out on this episode of

Cooking

Lo
Han
Chai

.








---

1 Pack Tau Kee


---

2 Cans Button Mushrooms


---

2 Cans Straw Mushrooms

---

20

Tau Pong




---

3-5 Red Tau Ju

---

6 Minced Garlic

---




METHOD

---
Soak all the dried ingredients to rehydrate them: dried mushrooms,

Tau Poi

&

Tau Kee

(beancurd skin), and hair fungus.

Squeeze dry the

Tau Poi

and shallow fry them until they are slightly brown.

Fry 1/3 of the minced to a golden hue, then throw in the hard part of the cabbage to be mixed with the garlic oil. Fry for a few seconds...

... then follow by the leaves of the cabbage. Fry until the leaves collapse and the moisture is dispelled from the leaves, about 5 minutes. Scoop out and set aside.
Fragrant the remaining garlic before frying the smashed red fermented beancurd (

Tau Ju

). Bring out it aroma before...
... adding a cup of water. Bring the sauce to a boil.
Add the soaked rehydrated mushroom. Stir to get them to absorb some of the sauce.
Next put in the fried beancurd (

tau pong

). Toss well until the beancurd collapses from it fluffiness.
Add about 2 tbsp. of dark soy sauce to give it a bit of brown color.
Return the fried cabbage into the mix.
Pour in enough water to cover all the ingredients.
Here, my mum was stumped... does the recipe call for oyster sauce or not? The

Kay-Po

said: "Go ahead, make my day!"

What's wrong with the picture?*

Put in the

Tau Kee

(beancurd stick)...
... fried beancurd skin (Tau Poi) and canned mushrooms...
... and finally the hair fungus. Let it simmer for 10 minutes or so. Taste...
.. this ain't exact science, so if the flavor is lacking, in a separate pan, fry some more red beancurd with garlic as before. Then add onto the wokful of simmering Han Chai.
Toss occasionally to prevent to bottom bit being burnt or over-cooked. Simmer for another 10 minutes. The whole idea is to for the fermented beancurd flavor to sink into the rest of the ingredients, and vice-versa for the flavors of the ingredients to ooze out onto the sauce.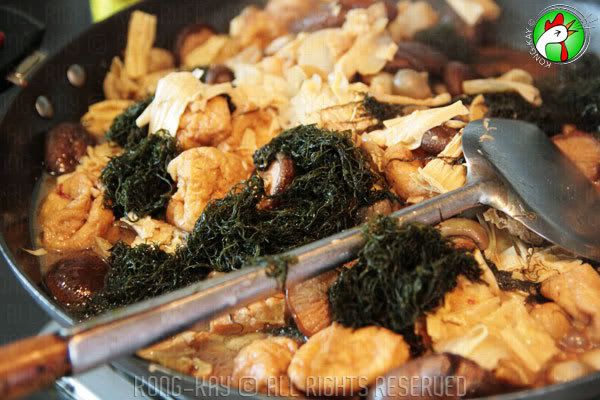 Make final adjustment to seasoning before serving.
---
*
For a truly vegetarian experience, make sure the sauce used is vegetarian. Some people go as far as omitting the garlic. What do I know, a non-practitioner?!!! Don't make a boo-boo like the local 100% discount store that put a halal logo on imported Chinese Tau-Cheo minced pork!