This is a fairly new restaurant boasting chefs from Foochow, China. It's nothing new as there have been quite a lot of Foochows of Chinese nationals working in this foreign Foochow land. What makes this one different from the rest is that its food is a bit different from what you get in this town - in its style and preparation, as evidently apparent in its presentation.


The restaurant started life at the ground floor of a tiny shop lot with a space of 20' x 40', having a capacity of 6 six tables or so. Few months into operations, it has taken over the 1st floor (2nd. to Am.) of 4 to 5 lots (former space of a Japanese restaurant). That evening we took a table for 6 on the ground floor. The place was packed and service was good, courtesy of the proprietress.
Yam Rice


From the first dish (fish) that arrived on our table, you'd notice the difference in style of steaming: the flesh was sliced up in chunks before steaming, and its underlying broth (like chicken) had a sweet tinge to it ; no doubt msg., but in a good way that it didn't parched you up. Although this is not a fresh cultured fish, there wasn't a hint of fishiness in the meat or the broth. Its flesh was fine and silky in texture, and yet firm in body. The dish tasted expensive but it wasn't.

The yam rice was not cooked in the claypot that it came in. It looked like ordinary cooked rice - loose and fluffy, and didn't feel like it had been cooked together with the yam, and yet it had the sweetness of yam flavor in every bite. It leaves one wondering: "Did they or didn't they cook the rice with the yam?"


The clear bitter gourd with flowery egg white ladened chicken base soup is something fresh and new. The gourd was finely diced, and it only had a slight bitter after taste. Throughly refreshing!
This seemed like smoked duck, deep-fried with ginger slices before being served, to give it a dry crispy fragrant texture. Nice!
The sweet sauce in an eggplant was not what one would expect from this dish. Slip of hand with the sugar, perhaps. The fried yam was like having chunky pommes frites with ketchup, except the sauce is a bit sweeter.


I think, the check came to RM110, inclusive of drinks and rice for a company of 6.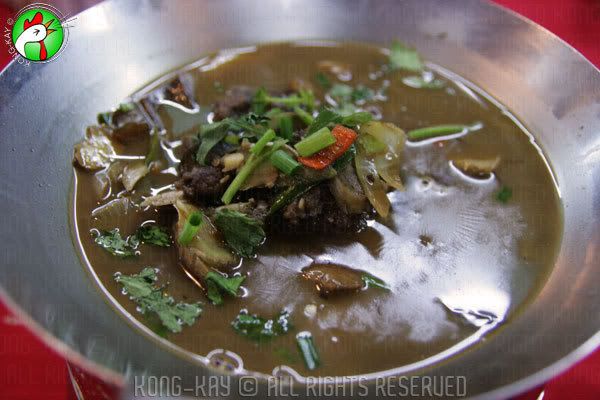 Nobody remembers what this dish was. Could be lamb...
Holy S***!!! Now I remember, after dinner we stopped by the Happy Hours Café at Rejang Park. This is where the Friday crowd (well, most of them) from Home
Café
gathers on a Friday night. The above dish is... well, let's just say the meat was as tough a turtle's back. I wasn't tipsy that night 'cos I had to drive 2 persons home, and this time I didn't come out at some freaking shortcut along the road to Sibu airport. (reposted @ 2:00 p.m. 30/5/08)