This is the almost famous

Kolo Mee

stall at

Lau-Ya Kheng

by default of being there... the Teochew family (2 sisters plus mum) has been at it for as long as I've been eating at this place. Its noodle is almost on equal footing as

Min Joo's

, but not quite there yet. Nonetheless, it still has its own followings.

Its

Chainē

(a mixture of all the spareparts of the pig) is the soul of the

Kolo Mee

experience. If you dig liver, kidney, coagulated blood and intestine of the pig, yes, with tau-gay (beansprouts) too, the
Chainē

is the only way to go.
.. as accompaniment for plain rice, or just plain noodle (

kosong

).

I always have plain noodle, mostly

Koay Teow

(flat rice noodle), mixed with chilli sauce to go with my
Chainē.
---
This post was done ages ago, and it seems like a opportune time to upload this as a rebuttal to the cooknengr's...


The hawker stalls have been permanent fixers (all Teochews to the core) at this place for as long as I've been eating here. I think they have been here far longer than the
cooknengr's been eating kolo mee. So there's no question of "... some hawkers really like it here..." as no newcomers have laid root at this place
ever
since, and they don't serve stale, foul smell or rotten "Tu Kua". They have refrigerator for the meat and stuff, as seen left of top photo.

The next time he comes along, they are prepared...


*Anyone interested to order the above picture to plaster on your establishment, pls. use the email address. Steep discount is offered for bulk order esp. the police and immigration departments.


---
For Those Not In The Know
---
*Every couple of years, a cat, a Malaysian reject, in the hat (the hat probably hides his swelled head or inadequacies) saunters into town (it's not Dr. Seuss) and bad mouths whatever comes into sight 'cos he thinks he's above us all ( 'feel "atas" abit', in his own words), and this year is no exception...
ON CIVIC-MINDEDNESS...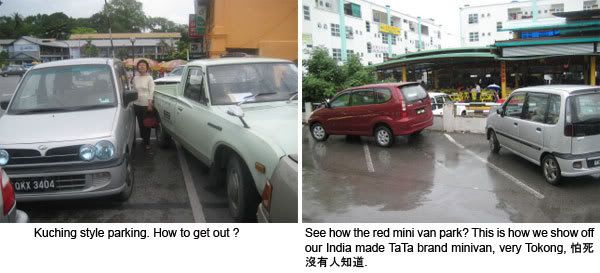 ... BUT NO QUALM ON BUSTING NEIGHBOR'S PROPERTY
ON ARCHITECTURE...
ON ENGLISH LANGUAGE USAGE...
ON HAIR SALON ALA-KENNY SIA...
BLOG-WHORE...
... pimping at the expense of sister's sob story and a friend who's "not sick, but unwell.." for a 15 minutes of fame... makes one wonder who should be in the cuckoo's nest.


THROW A PARTY &...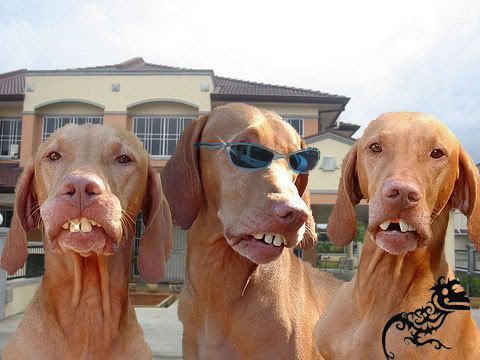 ... when you throw a REDNECK party with a cautionary tag such as :"If you decided to blog about this party, please exercise blog sphere courtesy, not everybody at the party wish to be identified on the WWW. Ask before you post
pictures of fellow bloggers.
"... it's like being invited to a Ku Klux Klan pajama party and asked not to bring your white bedsheet. I'm sure someone have had one helluva experience but kept mum-mum 'bout it.

... 4 DAYS TO COUNTDOWN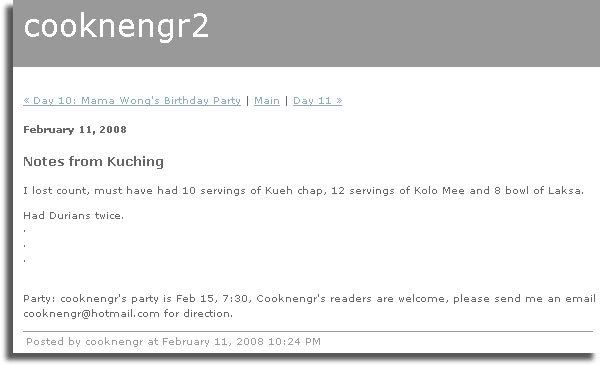 ... calls for desperate measure...


...
NOBODY CAME...
WELL, ALMOST NOBODY...
... and 29 "Bo-Hiew".
IRONY OF ALL IRONIES...
...
and one fails to see the irony himself...

... and for the umpteen times
... ...
• meet another EMC engineer, praises himself to death of his EMC credential...
• put a plate of fish & chips in front of him, he'll tell you of his British lineage...
• pass by the Astana, he'll remind you of his violin days with the governor...
... at least can blame someone on the narcissistic streak...
---
*This weekend's supplement is brought to you courtesy of Cooknengr