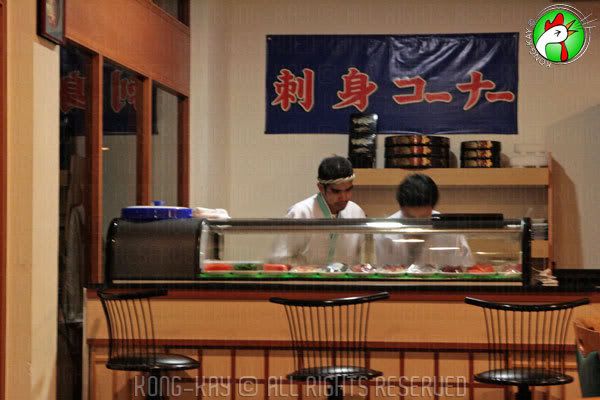 This is a members only club; meaning no outsiders are allowed in without the invite of a registered member. However, the rules have been bent a bit as far as its F & B outlets are concerned. Once I had been informed that it has opened its doors to outsiders, I took the next opportunity to make a reservation... I called up the chef and began dropping name (
It's one of those times when name dropping comes in handy) even though the person concerned is not a member. It's good to have a friend, who is a friend of the chef.

Having told the chef of our expenditure and a few requirements of the dishes served, I left everything in the good hands of the chef. And this was the result...
As the main dining hall was booked for a wedding, we were allocated seatings in the Japanese restaurant, which was even better with more space for the kids to run around. The cost of the meal was about the same as the Banquet, with free corkage accorded to us; however, this was more worth it, in terms of quality and the portioning of the food. In fact we had too much, and had to

Ta-Bao

(doggy-bagged) the duck, which became my

Kiam Chai Boi

.
As the restaurant is operated in collaboration with the Thank Food group, the food served is quite similar to the offerings at Lok Thien group of restaurants - from the Japanese spread to the Chinese servings.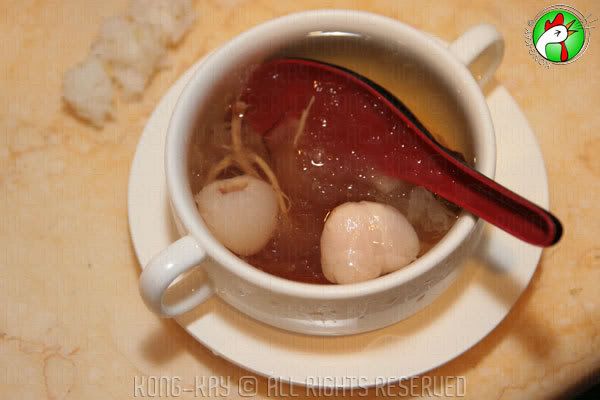 Ginseng with White Fungus Dessert (Tong Sui)


Before you make a beeline to the club with eager anticipation, I think I'd better warn you that there's a caveat attached to this open-door policy - there's a 20% surcharge for non-members. Apparently, it didn't appear on our check; Had it been imposed, our surcharge alone would be enough to feed a table of junior leaguers. No kidding!!!