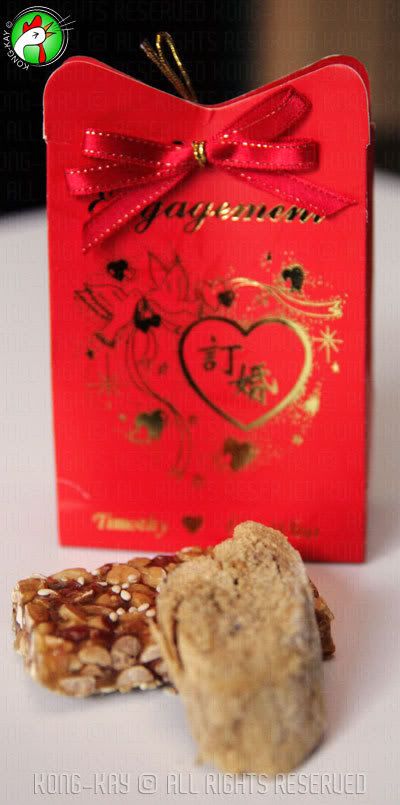 This is the engagement dinner of Tim & E.W. held at the sister restaurant of Hong Kong Noodle House. It's known for its Peking Duck, which we weren't having any that night. It's one of the handful of Chinese Restaurants in town that puts out presentable banquet dishes that will do you proud on your memorable occasion. On this night, it didn't disappoint either... stuffed silly!

People still gets engaged at these days and age... and the gift of sweets (right) is still the rage is an amazement when most prefer to "go directly to jail" than a trial. From its humble beginning of just red pack-wrapped, it now comes in a nice printed box, containing a piece of peanut brittle and a piece compressed sweet peanuts dust; tastes as good as used to, even if it means popping a few antibiotics to drive the allergy away.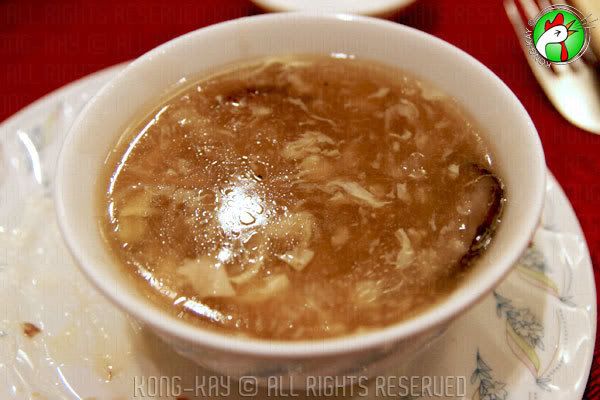 Shark's Fin Soup


As in most cases, the first dish served was the appetizer or cold plate, which consisted of fried venision with snow peas, beancurd-skin sushi wrap, abalone clam salad and crispy stuffed beancurd skin. Next came the shark's fin soup... a bit of the stuff was present.
This finger food of an appetizer came in 2 plates - the jellyfish and sandwiched fried pork.Normally the jelly fish would be piled in the middle of the big plate, but somehow it was served in a different plate this time. But who would gubble the pretty parley presentation? The Thai style jelly fish has a bit of heat and a hint of sourness. The finger food is a sandwich of toast, fried pork cutlet, cheese and fried beancurd skin; interesting combo.


Then comes the Pièce de résistance... succulent slab of

Chai Siew

style roast rib. Unlike the Banquet dinner, at least the people here had the sensibility to provide forks and knives for slicing and dicing the chunks of meat. Too much of a good thing... sometimes you just wish they would go easy on its portioning.


Above and side photos were the products of a fish done 2 ways. The fish was filleted and steamed in bite-size rolls, while its tails, fins and less meaty parts deep-fried to a crisp. This is one of the few scenarios where you can have the cake and eat it too! You can almost gulp the whole fish, hook, line and sinker.

Next was another mariner, batter-coated fried shrimps bathed in a sea of creamy butter sauce - laced with sprinkling of curry leaves. Scumptous!


Lastly, or the second last dish before the obligatory fruits dish, was the fern leaves fried with belacan. See, 8 dishes... an auspicious number! And meeting the quota of cold dish, soup, meat, fish, shrimp and vegetable - the so-called prerequisite of any banquet.