o
The noodle used is called

Wang Ti Mien

or Emperor's Noodle. It's a fine thread egg noodle in the vein of

Mee Sua

h. There's no fancy ingredients to go with noodle except the Miso marinade for the pork.

The noodle and onion is seasoned ever so lightly to give it a bit of taste. The marinade works fine for my taste, and no addition salt is used during the cooking process. However, it may vary a bit according to the type of Miso used. Just remember, nothing is set in stone.

INGREDIENTS

---
1 Ball of Emperor's Noodle

---
80 gm.Sliced Pork

---
½ Onion Thinly Sliced

---
1 Tsp. Sugar

---
2 Tsp. Mirin

---
1 Tsp. Miso
---
1 Tsp. Light Soy Sauce

---
2 Tsp. Water
---
½ Clove Minced Garlic
---
1 Tsp.Sesame Seeds
---
Cornflour Slurry
---
MARINATING THE PORK
---
---
SOAKING THE NOODLE
---
---
METHOD
---
Dry-fry 1 tsp. of sesame seeds over medium flame until slightly golden in color. Set aside.
Put in 6 tbsp. of cooking oil into the wok on medium high heat. Use the spatula to coat the entire wok's surface. Pour out the oil, leaving 2 tbsp. behind. Throw in the noodle, quickly scooping and tossing it to sear it slightly. Sprinkle with ½ tsp. of salt. Once the noodle is fully coated in oil and fried through (about 3 mins.), scoop out onto a serving plate.
Put in 2 tbsp. of cooking oil to fry the sliced onion until slightly soft. Season with a pinch of salt. Scoop out and pile on top of the noodle.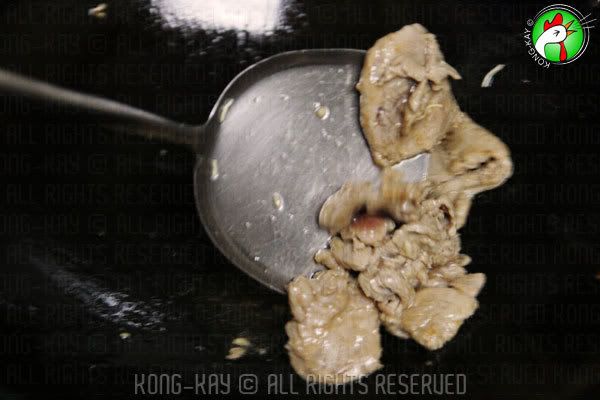 Use the remaining 2 tbsp. of oil to fry the marinated pork. Quickly stir around to get the meat cooked evenly.