INGREDIENTS
---
● 1 Bunch Longbeans (12 stalk) ● 1 Clove Minced Garlic
● 1 Tbsp. Sa'Cha Chiang
● 1 1¼" Wide Strip of Pork Belly
● 2 Tbsp. Cornflour
● ½ Cup Water
---
This is a twist to the old longbeans fry. The beans used is a thinner and longer hybrid that have been grown locally recently. Taiwanese

Sa'Cha Chiang

, which is like a dry shrimps

sambal

paste minus the chilli, is used here.

I only used about a dozen slices (about 100 gm.) of the whole strip of cooked pork belly. Braising the fried pork belly releases its cornflour coating, thus thickening the sauce a bit, giving it a smooth glistened look and feel.

METHOD
---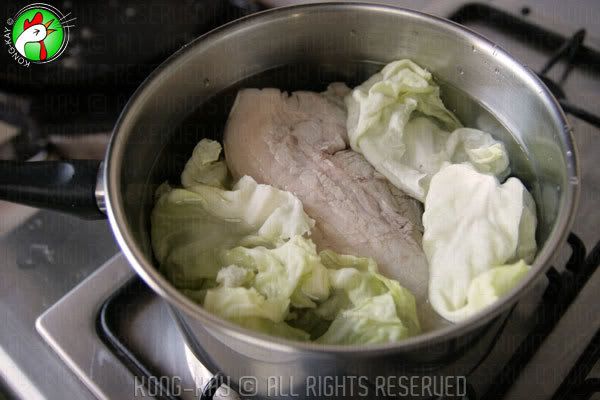 Boil the pork belly in water with 2 tsp.of salt for ½ hour. Then remove and let it cool before slicing.

I've added cabbage leaves into the water to make soup base for use in another dish.

Blanch the whole longbeans for about a minute. Rinse in water to cool. Then knot the beans as shown above, leaving ¾" stalk on both ends.
Fry the minced garlic in 3 tbsp. of oil for a while before putting in a tbsp. of

Sa'Cha Chiang

. Stir to mix throughly.

Then put in the fried pork belly to have them fully coated with the sauce.


Throw in the knotted beans. Toss and turn for about ½ a minute to mix with the sauce-covered meat. Finally pour in ½ a cup of water and let it braise for another 3 minutes, covered. Season and serve. If you prefer chrunchy meat, braise the beans first before throwing in the meat just before serving.

---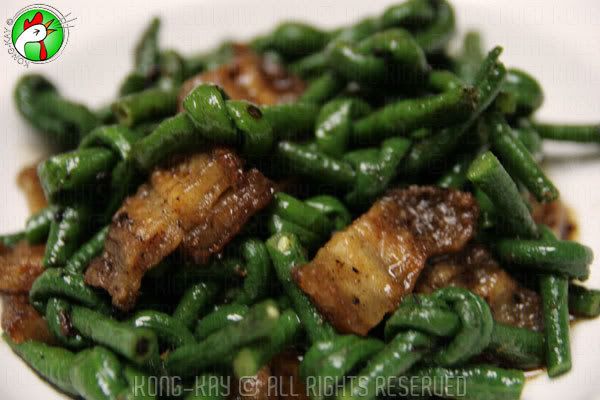 ---
I bought some longbeans the next day to take to Sibu. See other people's take on the longbeans on Thursday.