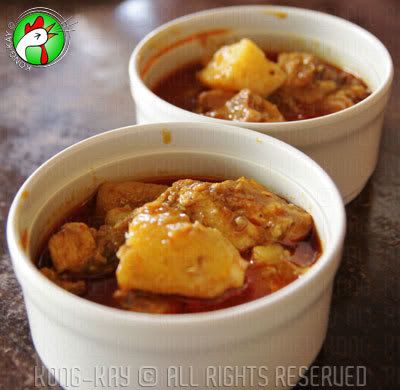 It's not everyday you get the offer of food at such down-to-earth price of RM2. With the worldwide shortage of rice and the escalating food price, it's a wonder you still find prices of such unbelievable value for a spiffy place, and not your roadside-squatting eatery.

Alas, these are only the promotional items of this 'quite new' establishment. They are chicken rice, curry rice and

nasi lemak

. Unfortunately, they were out of chicken rice when we were there for lunch before 1 (not the usual 3 p.m.), otherwise you'd see all the promotional items on this page, instead of 2 curry chicken and a

nasi lemak

.

The curry is among the best I've yet tasted, enough spices to tease the buds. For its price one can't complain on its serving; but its 2 pieces of chicken with potatoes is suffice to go with the rice. The nasi lemak has all the peanuts,

sambal ikan bilis

, cucumber and fried chicken pieces, save for the egg, or maybe the flat salted fish. The rice has the rich coconutty flavor. The only time I had a cheaper

nasi lemak

than this was a 70 sen pack I bought from a Malay lady selling her stuff along the walkway of the G.P.O. (those days when I had illegally parked within the compound of St. Thomas' church, and got a few love notes too!).

Cost of 3 rice meal: RM6, and cost of 3 drinks: RM6.80. Had it not been for the offer, I wouldn't step inside this place - not that the food is bad; it's the insidious look the waitress eyeballed you as if you owe her something... tell me about it on your next visit. And Aunty Lily wonders why business is failing?!!!