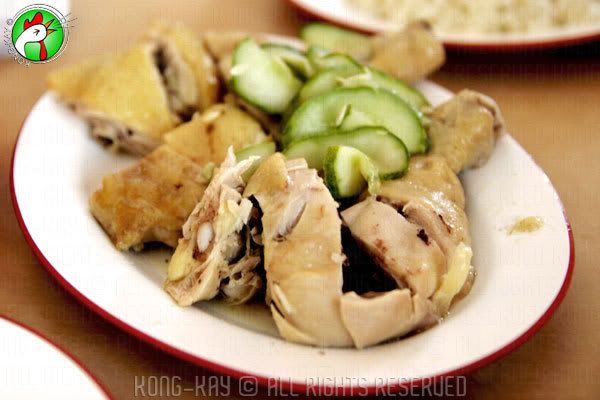 It's been quite a while since I've been here last - probably more than a year or so. I started patronizing this lady's stall the very first day she started business at Jalan Green Hill (opposite Ah Ka Su Seafood). She's quite a pedigree as Hainanese coffee shops' history go, but her chicken rice skill was an unknown quality when she first started, as the parents' shop (defunct) was more known for its coffee and

kaya

toast.

The chicken here differentiates from others in that it is steamed rather than the normal poached type. In theory, the chicken, especially the chicken's skin, comes out nicer; but it makes no difference to me as I discard the skin. Also all the flavor and juice of the chicken are retained within the fowl, and not seep into the poaching liquid. And the steaming is no advertising gimmick; the chicken does taste better if you imagine it to be.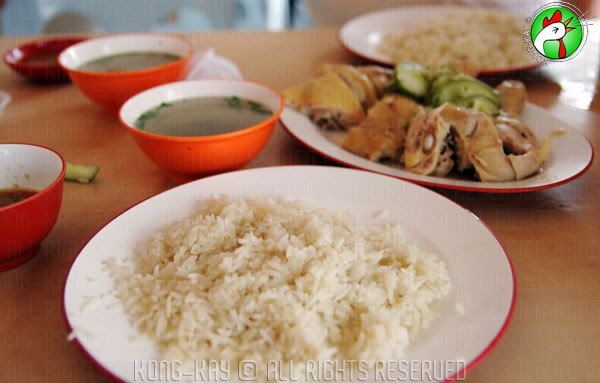 There is no denying that the chicken rice here is nicer, in looks and taste than the more popular Fang Yuen. It loses out in the portion department - both in the chicken and the chilli and

sambal

served (note the small plastic receptacles used). However, a request for bigger r
eceptacles (due to the fact that it is clumsy to handle) was met with a generous bowl of vinaigrette chilli.

Speaking of Fang Yuen, its standard has slipped a few notches the last time I was back a few weeks ago. For value it's still it, but this one definitely has an edge in terms of taste and quality.