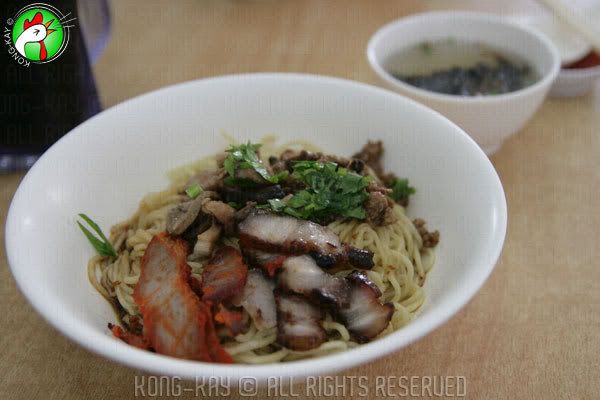 At last count, there are 7 to 8 coffee shops and restaurants within this U-shape rows of shop houses. Seems like catering is the only game in town, with its money upfront policy. This shop,

Tar-Zen

literally means big fellow, is right opposite

Lao-Pao

(wife) cafe; so there's a bit of rivalry between the spouses.

Business must be tough, as I saw a few abandoned stalls within this café. But the outlook seemed rosy by turnover of customers the place is experiencing. And this particular noodle stall fronting the corner-end of the shop boasts of its home-made noodle, which is proudly proclaimed

How-Wei

(good taste).

How

How-Wei

is

How-Wei

, you might ask? Very

How-Wei

, I must say! Its noodle is howyamightdecribeit Q-Q, or in other word, "Springy". It springs back at ya at every bite. And that's not all... its topping of

Char-Sui

(Roast Pork),

Sui-Yuk

(Roast Pork Belly) and fragrant minced pork nicely round off an already one heck of a pièce de résistance. If you can hack those fatty stuff, the pork belly is to die for... finally you wash off with the clear seaweed soup that accompanies the noodle. Worth every RM3.50 of it!!!