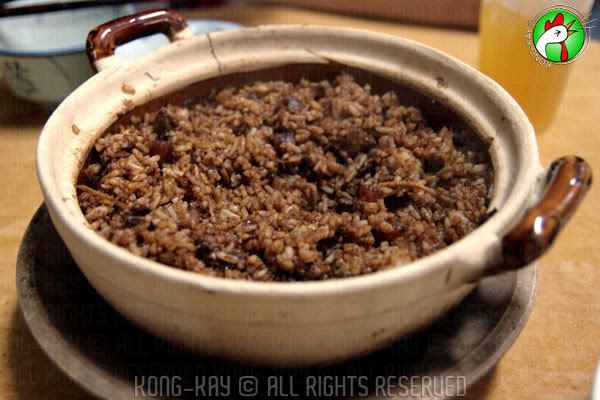 The guy who does the claypot rice has been a vagabond of sort; he's been on the moving through several locations along Nanas Road before settling down here. I finally tracked him down quite by accident... being a

ka-po

, I was looking for the assassination site of a local lawyer, and lucky for me, this guy was cooking at the 5 foot way of this coffee shop. It was an absence of year and half that I found him.
This may not be the best claypot rice in town, but it's the best there is on this side of my town. Cheap, reliable and you don't have to wait too long even on a busy night; it's more like guerrilla eating, eat-and-run, for there isn't much to hang around for, as there isn't much to fancy on the other stalls' food - kolo mee, chicken and pork rice, rojak and

zi-char

at the back kitchen.

The regular size pot goes for RM3.50 and the bigger one is RM7, and that hefty bowl of peanut soup with chicken's feet will set you back RM1. The normal configuration is rice with chicken, Chinese sausage and salted fish. You can opt out any of the items except the chicken and rice, of course. This is a family operation, and everyone is roped in to do their bits. Over the years, I've seen the baby in the basket and the little girl jumping on dad's car bonnet grown into dutiful child and teenager, both helping out with the cutlery and condiments, and busing the used wares. - termed exploited child labor by western nations, but it's a way of life here. One has to earn one's keep, only being put through the paces a bit earlier than the western counterparts.