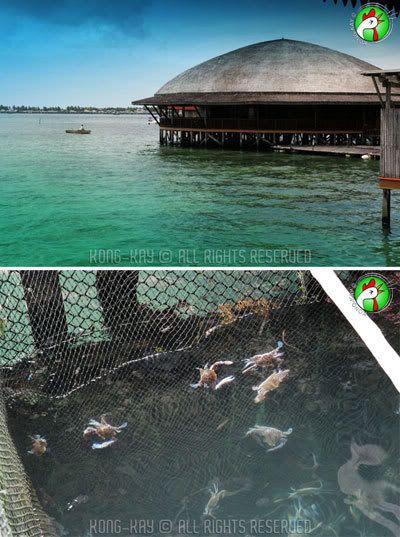 Semporna is a little village on the east coast of Sabah. It serves as a launching pad for scuba divers venturing into the depths of water surrounding Sipidan Island. This place used to be notorious for Filipino pirates that raided this sleepy village on various ocassions in the 90's.

When we first stopped here briefly before going off to Malbu Sipadan Resort, we saw a few seafood restaurants, which we thought we would drop by on the return trip. So we forewent our last free lunch (actually paid for in the package) and took an early boat to Semporna. The boat ride was smooth, as opposed the choppy initial trip - a false sense of lull... a clam before the storm, for we were about to have a lunch date with Capt. Cutthroat of Pearl City Restaurant aka. Restorant Bandar Mutiara.

This is a restaurant on stiles above the sea, with live seafood kept inside nets by the side of the restaurant. So fresh "catch of the day" is the operative word. But how much do you reckon a lunch consisting of steam red snapper, fried Sabah

Mani Chai

with dried shrimps, fried conch in hot soy sauce, deep-fried calamari, fried beansprouts with salted fish and crab

assam pedas

for a table of 9 persons would cost?


Here's the low-down...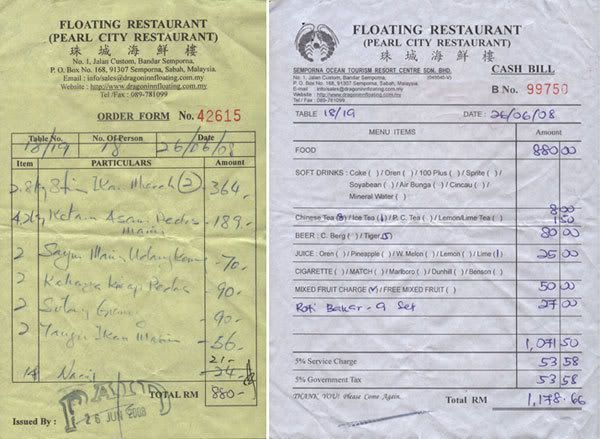 On the left is the cost of food for 2 tables, and on the right is the breakdown of the overall cost inclusive of drinks. Roughly per table works out to be:-
Fish RM182
Crab RM94.50
(costs half or less in Kuching)
Mani Chai RM35
(RM10 - RM15 in Kuching)
Conch RM45
Calamari RM45
(costs half or less in Kuching)
Beansprout RM28 (RM5 - RM10 in Kuching)


Another contention is the roti bakar (plain toast) - about 2 pieces per person - works out to be 75 sen per piece; for that amount you can have
roti kahwin
with butter and
kaya (
jelly/jam
)
, and it comes as a 2 piece sandwich. And 1 lime juice for RM25! For the money we paid for the beansprouts, if we were in Kuching, we'd have beans sprouting out of our arses!
So, if you thought the Abu Sayyaf are real terrors, they are amateurs compared to Capt. Cutthroat of Semporna.. once you've ordered the food, you pay the ransom - non negotiable!
---
*The first thing BengBeng said to me the first time I met him in Sibu : "You've no aids." HB did a double take and had him clarify. Yes, indeed I have no ads. on my blog. But I'm selling out as of today. The color of green is very alluring.

---