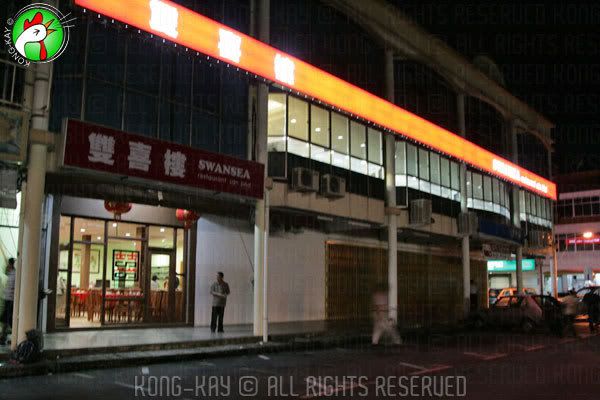 This time we have a pre-ordered RM350 per table dinner. Whatever came to our dinner table is a mystery, as everything was a the chef's hand, and we have no part in determining the food except for paying the check.

One thing for sure was that the dishes were bigger than the ones we ordered a la carte. There was ample stuff to feed ten hungry mouths... and then some more. However, one thing still remains constant - its service
(or rather lack of any)
; still as awful as the previous encounter. But we'd come prepared this time; we put on our thick skin, and pestered the waitresses until we got what we wanted, rather than idly waited until kingdom came. The tactics sure worked!

Mukah Umai (raw fish) with Rojak (shrimp paste) sauce


The umai was brought one of the fellows who just return from Mukah, which is famous for it brand of raw fish. The fish used was Teburok, which has lots of tiny bones, but the way the fish was so thinly sliced through the bones, one hardly feels any thorny issue. The sauce is a deviant from the normal lime mix, in a way, a bit over-powering.


The duck was the same as last time, but Champion, being what he is, detected a bit of sogginess in the meat and texture, due to being prepared way ahead of time. I think it's the delay-dallying of the front staff contributes a lot to the timing of the food being brought out to the customers.


This tiny ginseng infused soup seemed to have all the tonic-packed properties in its content. The soup in mainly the source of contention; I didn't attempt to bite into the chicken and herbal bits.

The preparation of the fish was the same as the last time except the fish is different.
Some dishes can stand the test of time; like the one above, but most are best eaten fresh off the wok, like the one below, which was neither crispy for the shrimps, nor the fried stuffed dough, which was soggy - cooked way ahead of time.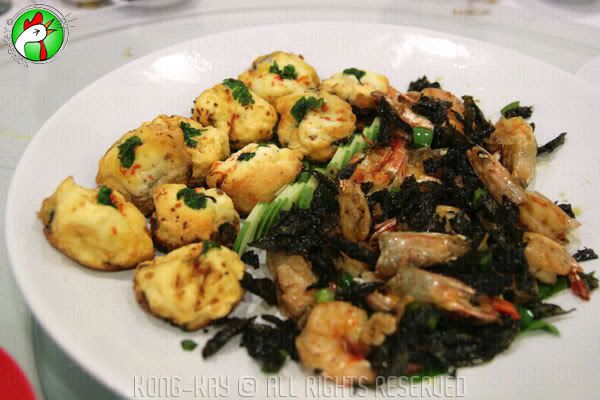 Tea Fried Shrimps and Fried Stuffings
The yam biscuits was something I haven't seen before; yam paste sandwiched between 2 biscuits, coated with sesame seeds and then deep fried. I was told the chef served in Sheraton Restaurant and Sri Meranti before coming to this one. I suppose, both of those restaurants have the same creation.